As the world of Mac's become more and more popular within the global community, so does the threat of viruses, system vulnerability and of course phishing to name a few of the issues which could effect your computer and more specifically your data and identity. Although the Mac is not as vulnerable as the PC, these threats still exist and when it comes to phishing or identity theft, the Mac is just as susceptible.
Thankfully one of the world's leaders in internet security Symantec have just released "Norton Internet Security" for the Mac which gives users that additional layer of safety which is now a must have as almost everyone has access to the internet which is generally where almost all threats originate from.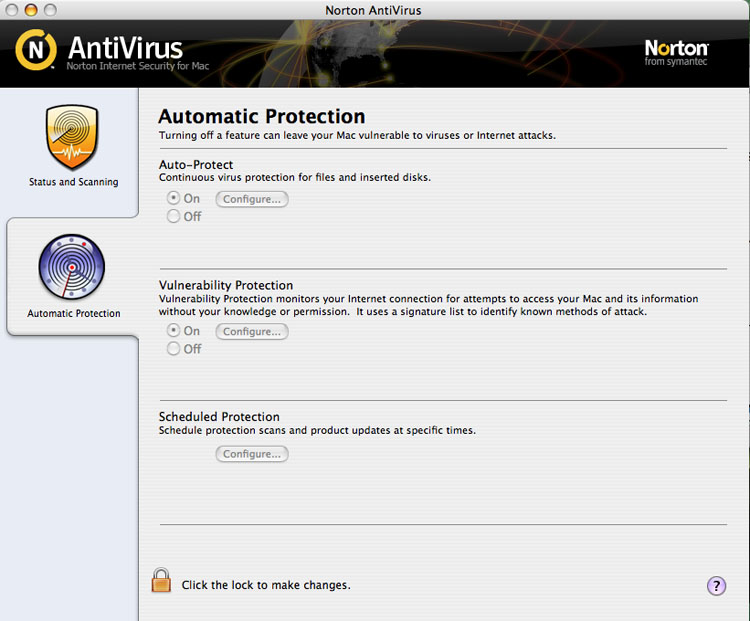 The face of computer security has thoroughly changed since the advent of the Internet and it's no longer about "swapping" discs and become infected, rather, the internet is now the breeding ground for these threats. With that said, Norton Internet Security for Mac supports the following key technologies;
Antivirus

Antiphishing

Identity protection

Internet worm protection

Two-way firewall

Vulnerability protection

Intrusion protection

Norton DeepSight™

Browser protection

File protection
Although we've used Mac for a considerable amount of years now, I can safely say that we have never been infected by a virus. However prevention is always better than cure and what really is interesting for me in Norton Internet Security for Mac is the Antiphishing, identity protection and browser protection of this software suite.
These aspects have now surpassed those traditional threats such as viruses and worms and are probably more dangerous as they can not only steal your identity but also your passwords and even get banking information and other information that may be used nefariously. As the PC has had this protection for a number of years now, it's great to see Symantec move this over the Mac as well.

The installation of Norton Internet Security for Mac was a breeze and it flawlessly installed on our test machine iMac 20" 2.4GHz Intel Core 2 Duo, 2GB RAM and a 500MB Hard Drive with no issues whatsoever.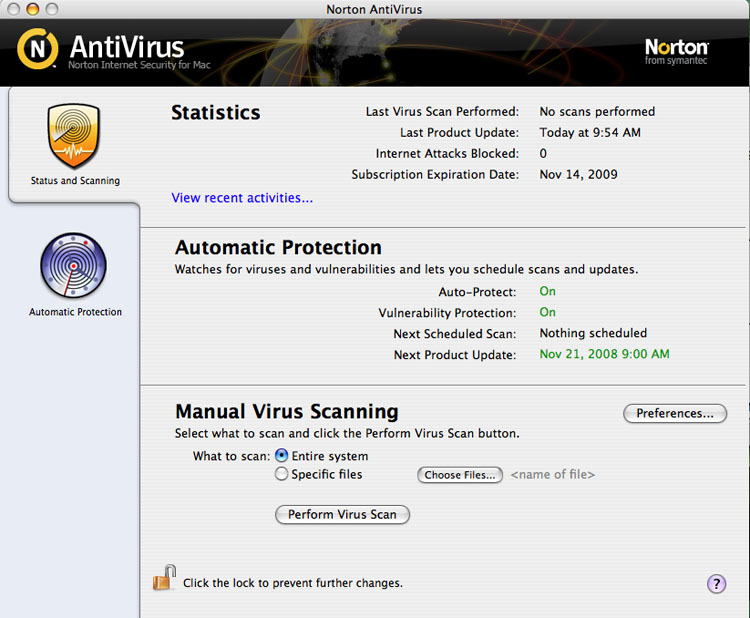 Of course in order to successfully install this software you need administrator rights before installing this program. Once installed, the program automatically connects to Symantec to download the latest updates which includes virus signatures and other security updates. I must also admit that the installation was extremely quick and Symantec seemed to have done their home work in this edition.
Once the program successfully installed, we were greeted to an almost PC-esq interface that was simple to use and allowed for easy navigation. Of course, the interface has been modified to suit the Mac and that my friends is a step in the right direction.
Although the program silently works in the background, the "Symantec" logo now appears in the top right hand corner of your operating system. When selected, this gives you access to "Live Update", "Norton AntiVirus", "Norton Confidential", "Norton Filewall" and lastly the "Norton QuickMenu".
In terms of performance, I could notice no difference once the program was installed onto our Mac and all programs worked the same without any interruptions, whether this was iLife '09, Adobe CS4 or the latest version of Safari.
Accessing these facets of Norton Internet Security for Mac was as simple as clicking on intended program which would then bring up a new window whether it was for "Norton AntiVirus" or "Norton Firewall". The program also allows you to configure the various aspects of this software suite or for those who do not want to know anything about their security settings, Norton Internet Security for Mac will simply monitor your system without any prompting necessary.

Norton AntiVirus for Mac also has a status and scanning feature which will scan your hard drive and network drives and give you the status of your system, ensuring whether you are sufficiently protected.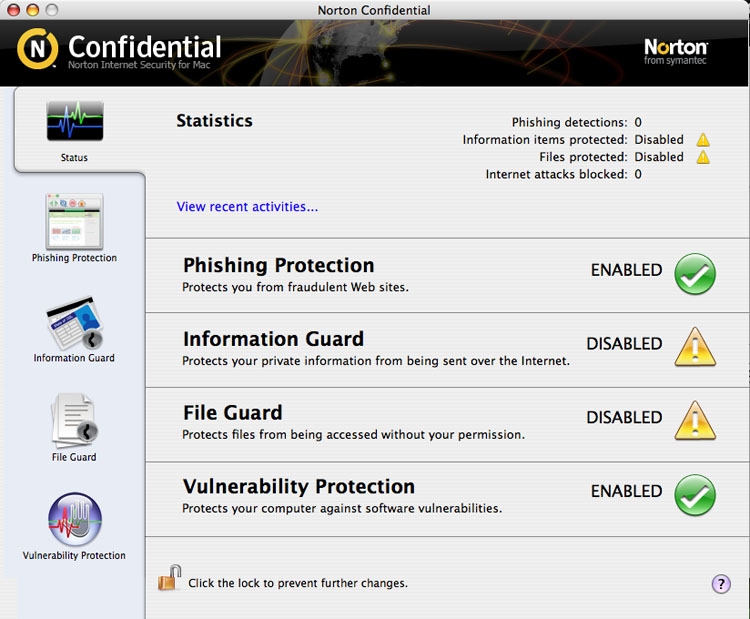 For those with slower computers, they may need to turn off "Auto-protect" or configure this feature, however we would recommend that this setting is not touched. It even scans new media that has been attached to your Mac, whether USB drives or CD's.
Another new feature for the Mac is the Vulnerability Protection which monitors your internet connection and prevents any unauthorised access to your system. Of course as all good anti-virus programs boast, Norton AntiVirus allows you to schedule scans and updates to your system which is great for those times when you are not using your system.

Norton Confidential is probably the most interesting aspect of this software suite thanks to its phishing protection which detects fraudulent websites and ensures that your user names and passwords and not stolen by nefarious sites.
Of course, the user can configure these options, most with either a "on" or "off" setting which is probably my only gripe with the program as I strongly believe these should always be on.
The Norton DeepSight™ Community is a great addition to this software suite as it contains an up to date list of hostile IP addresses which assists in preventing any websites from either being loaded on your computer or websites being hijacked to another site. We tested this feature of the program and we were quite pleased that the software blocked all those nefarious sites and a message is displayed for the user for notification.
In conclusion, Norton Internet Security for Mac is a must have program for Mac users that definitely gives you an extra tier of protection for your computer safety. The installation was a breeze and their was no comprise on computing performance. We were pleasantly surprised at how easy the interface was to use and navigate, recommended!

System Requirements

MAC OS X

* Mac OS X 10.4.11 or higher (includes 10.5.x support)
* Macintosh system with PowerPC or Intel Core processor
* 256 MB of RAM (512 MB Recommended)
* 150 MB of available hard disk space
* Internet connection required for LiveUpdate
* CD-ROM/DVD-ROM Drive

Support instant messaging clients for Confidential data filtering includes:

* iChat 4.x
* Microsoft Messenger 7.0.1 for Mac
* Yahoo! Instant Messenger 3.0 for Mac
* AIM for Mac beta 2 for Mac

Must meet minimum Mac OS X operating system requirements