The latest and dare we say, greatest audio software package has finally arrived on the Mac (and on any operating system) in Apple's Logic Studio. So... for the uninitiated, what exactly is Logic Studio v2.0?
Before we jump into what exactly Logic Studio v2.0 is, let's talk about history and it's quite amazing that the various software packages in this suite were once the domain of professional recording studios or were out of the price range of most.
However, as computers have become faster and more powerful, software has also become more powerful and costs have considerably dropped. In the last ten years or so, this can be seen even more readily and thankfully this is where it benefits users and is where Logic Studio v2.0 comes into the picture for the audio connoisseur.
Well my dear readers, Logic Studio v2.0 could be considered the ultimate music studio for your Mac that is aimed at all users who record, edit and mix their own music or audio. Whether you're a singer or a musician, this is the definitive program to create the best possible audio on a home computer which can be used by all levels of Mac users from music novice to music professional. Podcasting? Fixing up audio? Well... you are also in the right place.
As a side note, it should be mentioned that even some professional musicians use Logic Studio to finalize their masterpieces. Upon writing this article, Logic Studio v2.0 retails for around $749AUD which is extremely affordable for the functionality of this package and 10 out 10 for value for money.

Features
Everything musicians need to write, record, produce, and perform on a Mac

Logic Pro 9 for do-it-yourself musicians to write, edit, record, and mix their own compositions

More than 80 studio-quality effect plug-ins, including vintage and modern compressors, delays, reverbs, and more

New Amp Designer to help you re-create the sound of 25 legendary amps and 25 speaker cabinets

New Pedalboard with an assortment of 30 virtual stompbox pedals inspired by the classics

20,000 royalty-free Apple Loops from all the Jam Pack collections

MainStage 2 for performing live with the instruments, amps, effects, and sounds from Logic Pro 9

Soundtrack Pro 3, a streamlined audio post-production application for film and video
The software suite consists of three powerful application that include Logic Pro 9, MainStage 2 and Soundtrack Pro 3, each targeting a particular area of audio creation, each coming with different tools and software. When it comes to effects, loops and plug-ins, Logic Pro boasts 80 studio effects, 40 software instrument plug-ins, over 1,700 sampled instruments and over 20,000 royalty-free Apple Loops. How's that for definitive?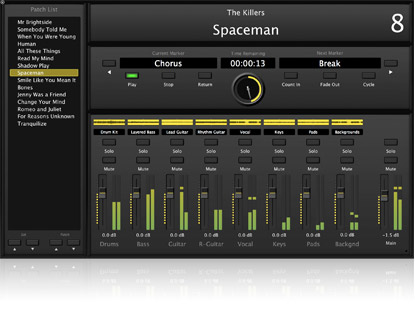 Interface

In relation to cosmetics, the interface of Logic Studio v2.0 is almost a carbon copy of the previous incarnations, however with a few new tweaks and colour adjustments here and there. That old analogy fits perfectly that if it ain't broke, don't fix it and Logic Studio v2.0 is no exception to the rule.
Nonetheless, the small changes made to the interface have created a sleeker and more professional looking piece of software that is not only easy on the eyes but in terms of usability is slightly superior than the previous versions. This ensures that existing users still know where everything is, relatively anyway and new users can jump straight into it.

Another thing I've noticed about the interface and the functionality of the software is that it is considerably faster to load and changes to audio is exceptionally fast. Of course this is dependent on your processor speed but after speaking to other users of Logic Studio v2.0, all with different Mac specs, they all noticed either a slight or considerably improved performance.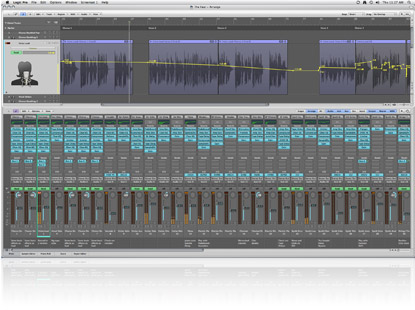 As with all Mac software, the installation was pure simplicity and we installed all components of the program on our test machine which included a 2.53GHz MacBook Pro, Intel Core 2 Duo Processor, 4GB Memory, 250GB hard drive and NVidia GeForce 9400M. We also had the latest OS from Mac which OS X v10.6 Snow Leopard. Needless to say, the installation process was a very minimalistic experience. For users contemplating on purchasing this software, the minimum requirement is as follows;
Minimum System Requirements
Mac computer with an Intel processor

1GB of RAM (2GB or more highly recommended)

Display with 1280-by-800 or higher resolution

Mac OS X v10.5.7 or later

QuickTime 7.6 or later

DVD drive for installation

PCI Express, ExpressCard/34, USB, or FireWire-based audio interface recommended
Additional recommendations for Logic Pro 9
At least 2GB of RAM for large EXS instruments

USB musical keyboard (or suitable MIDI keyboard and interface) for instruments

Logic Node requires a Mac computer with an Intel Core processor

Available disk space:
9GB to install all applications and required content

Additional 38GB to install all optional content (large content packages can be installed on separate disk):
- 10GB for Jam Pack collections
- 16GB for sound effects
- 6GB for surround music beds
- 6GB for other optional content
Without this review becoming a War and Peace due to the amount of features this software compendium has, we at Impulse Gamer have highlighted some of the best points which we feel showcase the best new features of Logic Studio v2.0. Needless to say, it was a difficult task.
Flex Time & Flex Tool

For those who wish to manipulate timing and tempo comes Flex Time that is a selection of tools that offer the user a variety of features and functionality when it comes to timing.
With real-time editing and the simplicity of your mouse, users can now manipulate their audio by pointing and clicking and we must admit that the ease of editing left us flabbergasted.
Flex Tool is ideal for tweaking your audio and even getting those instruments slightly out of time on time again. Click, stretch, manipulate and save, it's that easy.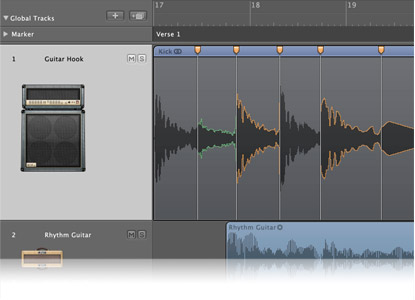 Bounce In Place

Bounce in Place. Sure it may sound strange, however for users quickly wanting to bounce an area of their audio for rendering or create a new audio track, it's as easy as 1-2-3.
By clicking over your audio or instrument, you have the option of creating a new audio track and plethora of rendering options, whether just an area or the entire track itself. Perfect for manipulating music and audio without complicating tools, strategies and rendering times.
Best of all, it's fast!
Pedalboard & Amp Designer

Testing the Amp Designer and Pedalboard was a real treat and provided you have the initial equipment required to connect your guitar (or instruments) to the software package, the rewards are almost limitless.
The Amp Designer gives the user the option of mixing and matching their ultimate amp system with 25 amps, 25 speaker cabinets and 3 microphones. This means that the end user has virtually an unlimited amount of options that is only limited by their imagination, not just their music genre. And of course, a huge saving for the user as they do not need to purchase additional hardware
Although the effects are similar to GarageBand, by allowing the user to tweak and of course play their own music, it really transforms you into a fully fledged recording studio and as musician myself, the effects are not only snazzy and cool but the software actually works like a standalone amp and Pedalboard.
Other nifty features include splitters and mixers that are quite easily to manipulate by clicking and dragging special effects.
The Pedalboard features 30 stompboxes with a variety of different effects from Chorus to "Wah" that will give your music that added level of professionalism or uniqueness. With the correct equipment, these stompboxes can even be used via Apple MainStage for live performances. The various stompboxes included ranged from traditional to retro and even waaay out effects. This was a pure treat to use and the band loved it.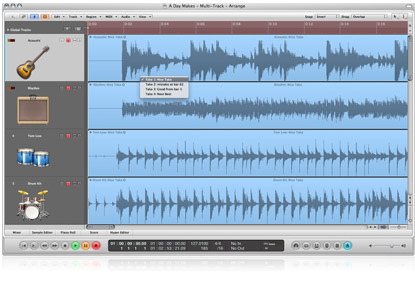 MainStage
For bands or solo performances, Live performance with MainStage could be the perfect tool for you that allows for some improved "live" manipulation of audio plus a healthy dose of presets. Whether its backing tracks or multi-channel stems, MainStage allows for some in-depth customization which would put some music studios to shame.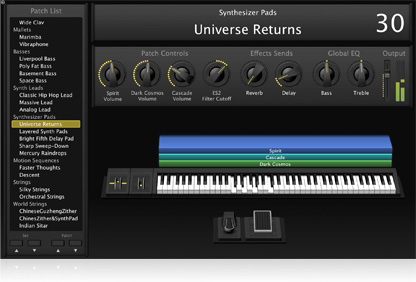 Although this is a very useful tool, the learning curve to master this aspect of this software is rather high due to the complex nature of audio. Another feature that should be addressed is ReWire that basically links together music applications and is ideal for users going on tour.
Soundtrack Pro 3
Soundtrack Pro 3 is great for those users working with audio (whether music or voice) and you will be pleased to know that this software now has the ability to match vocal levels of different clips. Add in the ability of a new frequency view option, this ensures for improved audio manipulation that will save you time.
A nifty feature is that Apple have brought the Multitrack Timeline and File Editor into one window, ensuring that all tools are accessible in one spot. We even used Soundtrack Pro 3 to restore the audio of an LP we converted into the digital format and although it was not as good as a CD, the improved quality was almost there.
One of our reviewers is a podcaster and although they have a great studio setup, sometimes background noise can still be heard, Soundtrack Pro 3 allowed us to remove the noise of a car horn and even shouting kids in the background. Moral of the story, don't record during kids coming home from school or use Soundtrack Pro 3.
Definitely one for podcasters or audio presenters.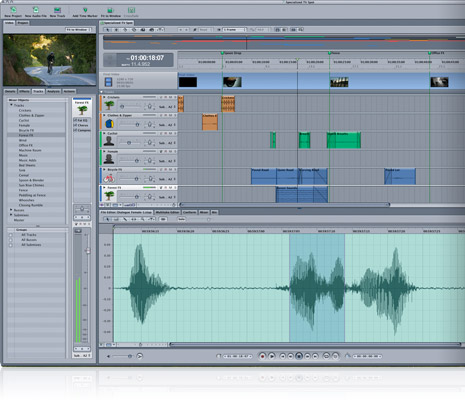 Compatibility
Logic Studio v2.0 is compatible with a plethora of devices, be it third-party hardware or third-party software. As the software was created with various pieces of hardware in mind, most users should have no issues in connecting their associated devices to the program.
If you have any devices from either Apogee and Euphonix, than you'll be blasting the world in no time. We tested some of the capabilities of the software with the Apogee Digital Duet Firewire Audio Interface I/O and it is quite a rewarding experience.
Final Thoughts

In conclusion, Apple have not recreated the wheel but rather made the wheel go faster and in essence created an auto-pilot feature to your audio by considerably reducing the time for rendering and loading.
The new Flex Time editing tools and Pedal Board are definitely highlights for us but this was just the surface of this powerful audio software suite. Unfortunately there's too much in this program to do this review justice.
Whether your a musician or someone who works with audio, the affordable price of this powerful software suite is a must have and best of all, the program is rather straight forward.
Feeling a little stuck? Log onto the Apple website for help or try the demo DVD which comes with the software.
Highly Recommended!

Contents
DVD containing Logic Pro 9, MainStage 2, Soundtrack Pro 3, Studio Instruments, Studio Effects, WaveBurner 1.6, Compressor 3.5, Impulse Response Utility, Apple Loops Utility, QuickTime 7 Pro, and required contents

Six content DVDs containing Jam Pack collections, sound effects, surround music beds, EXS24 samples, and impulse response files

Demo Content DVD

Printed and electronic documentation
Breakdown of Features
Flex Time
Flex Time is a new collection of features that lets you manipulate timing and tempo quickly and creatively. Experience editing without all the cutting.

Flex Tool
The new Flex Tool lets you push audio around with your mouse by clicking and dragging anywhere on the waveform -- forget all that tedious splicing and editing.

Audio Quantize
It's not just for MIDI anymore. Now you can conform the timing of an audio region to a musical grid, or to the feel of another track, instantly correcting a performance.

Editing drum tracks
Use Slicing Mode with drums and you won't compromise a single attack. Edit across a set of grouped multitrack drums and everything stays locked perfectly in phase.

Varispeed
Slow down or speed up an entire multitrack project effortlessly, whether you want to try out different tempos or take it slow while you play a difficult solo.

Flex Modes
Whether you're editing a solo vocal, a rhythm guitar, or multitrack drums, Flex Time has a mode designed to give you the best results.

Speed Fades
Get creative by adding turntable-style starts or stops with the kind of precision that would impress even the best DJs.

Tempo Import/Export
Now the audio you import can automatically conform to the tempo of a project you're working on. (And the other way around.)

Production Tools
New production tools allow musicians to tackle any part of the recording, editing, and mixing process they want -- and get it done in a fraction of the time.

Selective Track Import
To transfer setups and track content between projects, simply select the individual components you want to import on a track-by-track basis.

Expanded take folder editing
Logic Pro 9 gives you access to your important edit tools and Flex Time features -- right alongside Quick Swipe comping.

Drum Replacer
Now you can replace or double less-than-perfect drum tracks with triggered samples in just a few clicks. No more headaches. No more hassles.

Convert to Sampler Track
In one step, turn an audio region into a sampler instrument with a MIDI track to trigger it. Then you can modify and resequence the part.

Bounce-in-Place
The new Bounce-in-Place feature makes effects rendering much quicker and easier, whether you're bouncing a single region or an entire track.

Notation and chord grids
Create guitar tablature or detailed scores using a library of more than 4000 chord grids (or your own custom grids) and new ornaments for hammer-ons, bends, and more.

Jam Pack: Voices
Build your song with a lead vocal, rappers, backup singers, an entire choir, or even software instruments based on the human voice and body.

Warped Effects for Space Designer
More than 450 warped impulse responses radically transform what Space Designer can do, allowing you to give ordinary sounds a bizarre, other-worldly quality.

Guitar Gear
Now you can mix and match amp heads, EQs, reverbs, speaker cabinets and mics--then creatively route your signal through an impressive new collection of stompboxes.

Amp Designer
Build your dream rig by mixing and matching 25 amps, 25 speaker cabinets, and 3 mics you can position freely around the speaker cone.

Pedalboard
Fire up 30 stompboxes that deliver lush effects like Overdrive, Distortion, Fuzz, Delay, Chorus, Flanger, Phaser, Tremolo, Treble Boost, and Wah.

Classic tones
Hundreds of presets give you Amp Designer and Pedalboard sounds that are ready to go. Start exploring with classic tones, genres, or characteristics like clean, crunch, and distorted.

Apogee GiO support
This new USB audio interface and control device lets you operate Pedalboard hands-free and works with Logic Pro 9 and MainStage 2 right out of the box.

Live Performance
MainStage 2 lets you hit the stage with all the same instruments and effects you used on your recording, and adds a backing track player and live loop recorder.

Playback
With this new plug-in, your Mac becomes a flexible, reliable backing track player. Fill out your sound with a simple stereo track or a set of separate, mixable stems.

Loopback
This live loop recorder lets you create spontaneous arrangements onstage. And it's instantly familiar, since it's modeled after the tape-based devices you know and love.

Multimapping of controls
Set things up so that one knob controls multiple plug-in parameters. Then you can dramatically change your sound with the turn of a single knob.

Grouped controls
Drag and drop entire sets of knobs, dials, faders, meters, and more into your layout. From there, you can easily customize the type, size, and color.

Full ReWire support
Run MainStage with applications like Reason and Live. Trigger and sequence your instruments from MainStage, and route your signals straight into the mixer.

Record performances
Route your audio to a designated stereo output and choose from all the standard file formats, including Apple CAF for concerts of almost any length.