Apple have truly reinvented the wheel with Final Cut Studio, one of the world's most definitive and powerful video production suites. By adding a variety of powerful new features and improved performance, it's easy to see why Apple are a leader in this field. Unfortunately for PC users, this program is a Mac exclusive, however with the extraordinary features of this video product suite, it may be the ideal time to migrate.
This current version of Final Cut Studio contains the following applications;
Final Cut Pro 7 for video and film editing

Motion 4 for motion graphics and animation

Soundtrack Pro 3 for audio post-production

Color 1.5 for color grading and finishing

Compressor 3.5

DVD Studio Pro 4 for digital delivery virtually anywhere Apple devices, the web, and disc
Featuring six powerful applications, these applications cover a broad range of multimedia interactivity from video editing to animation to colour correction and digital delivery from portable devices to Blu-ray. Needless to say, it allows your Apple Mac to be turned into a fully fledged production studio.
The cost of the suite comes at a recommended retail price of $1499 with an upgrade version also available. However, In order to fully maximise this program, the basic system requirements are;
Minimum System Requirements to Install All Applications

Mac computer with an Intel processor

1GB of RAM (2GB of RAM recommended for working with compressed HD and uncompressed SD sources; 4GB of RAM recommended for working with uncompressed HD sources)

ATI or NVIDIA graphics processor (integrated Intel graphics processors not supported)

128MB of VRAM

Display with 1280-by-800 resolution or higher

Mac OS X v10.5.6 or later

QuickTime 7.6 or later

DVD drive for installation

Available Disk Space

4GB of disk space required for applications

46GB of disk space required for optional content:

- 9GB for DVD Studio Pro content

- 7GB for Motion templates

- 22GB for audio content

- 8GB for LiveFonts
You will also notice that users need a Mac with an Intel processor to use this software package.
Final Cut Pro 7
Final Cut Pro 7 has always been one of the better if not best video and film editing applications available and the competition between Apple and Adobe have been close at times. Of course, Apple have generally always had the edge and with the new precision tools that allows real-time manipulation and the new ProRes codecs, this current version really goes beyond its predecessor.
Historically, Apple created ProRes as a codec designed to keep as much of the quality of the original video as possible and once again they achieved the impossible again. These codecs definitely allow for some high-end productions and for the techno junkies, these codecs include ProRes 4444, ProRes 422 (LT) and ProRes 422 (Proxy). Needless to say, the end results must be seen to be believed and the quality is quite exceptional.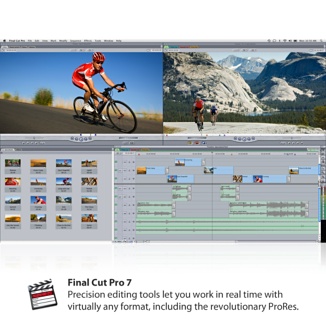 Apple have also claimed that this current version has better processing and rendering capabilities and I must admit that they were on the money. Users familiar with this software suite will see a noticeable improvement in terms of performance that is of course dependent on their computer specifications.
Apart from a slightly sleeker looking interface which allows for improved navigation and functionality, the program has a few tools to make things easier for the end-user. For example, the iChat Theatre is a great little tool for working over the internet with designers or clients and is ideal for sharing which leads to the Share window which allows for faster creation capabilities.
By clicking on the "Share" functionality, it allows for easy exporting to a variety of outputs such as Web, Apple TV and DVD. The best part is that you no longer have to run Compressor as it's all included in Final Cut Pro. Definitely a great time saving device and it also has some improved multitasking features.
Of course for us, the addition of Blu-ray finally allows users to create true high definition discs. For lovers of AVC-Intra format, Final Cut Pro 7 also supports native editing of this format which means you can import it directly into the program and once again another great time saving device.
Motion 4
The latest version of Motion, version 4.0 is perfect for creating animation and graphics to your productions. Boasting a variety of filters and effects, Motion 4 is ideal for jazzing up your creations for that true professional look. Want fonts that look like Star Wars or something very radical, this is your one stop shop.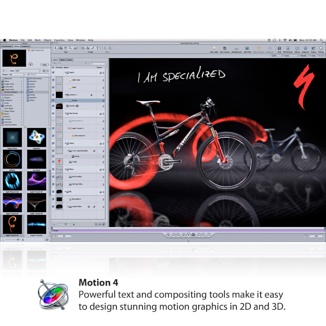 The latest version of Motion gives the user a variety of new controls through the "Adjust Glyph" tool which is ideal for modifying texts in a variety of different ways. For users creating text for movies, this is the perfect accessory, whether it's for titles or credits, Motion 4 is a relatively easy to use application.
Soundtrack Pro 3
Interestingly enough, I find Soundtrack Pro probably the most difficult to use, however this current incarnation is a little easier. In laymen's terms, it still allows the user to manipulate audio, however this current version allows for improved audio improvement and a variety of tools to benefit your productions.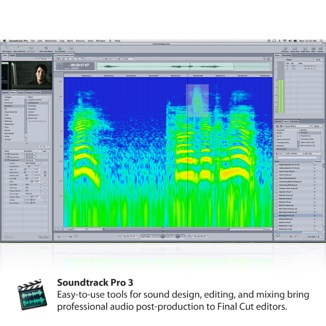 Some of the cool new features of Soundtrack Pro 3 include new voice-level technology which allows you to ensure that dialogue is uniformed, plus the advanced time stretch which gives you a considerable amount of control, especially when it comes to tweaking. With Soundtrack Pro 3, it seems Apple have gone more streamlined, ensuring that the new tools such as Waveform Zoom and the introduction of shortcuts is ultimately making the users job a much easier task which we agree.
Colour 1.5
Color 1.5 is perfect for fixing up colour distortions and there are a variety of new features such as the Tangent Devices Wave to get the job done. Supporting resolutions of up to 4K, this application ensures for the utmost quality of your final production.
One impressive use of Colour 1.5 are the grading tools which is great for giving your final presentations that Hollywood style look, whether it's surreal colours or something more earthy.
Thankfully both Colour 1.5 and Final Cut Pro allows for integration that not only reduces the work but also the stress of colour manipulation. Add in high-end formats such as Panasonic AVC-Intra or the new ProRes 4444 and this is easily one of the most accurate applications around.
Compressor 3.5
Compressor 3.5 is even faster than previous versions and best of all, it has a considerable amount more of automation features. Add in workflows and batch templates and once again it's as simple as 1-2-3.
This application also makes it simpler for converting compressed files into a variety of different formats such as DVD's or YouTube movies. Simply click on the Job Actions and this gives you all the tools needed to start the conversion. As the multitasking capabilities have improved of compressor, you no longer need to wait for your Mac as you can jump back to editing other files.
You can even use the batch template to create some spiffy workflows, such as converting a file to an online or portable format and also creating a high quality Blu-ray format without convoluted wizards or user input.
DVD Studio Pro 4
Finally, there is DVD Studio Pro 4 that not only offers some great customization to your final products but there are new and improved templates to assist you as well. This application basically allows you to finalize your movies with DVD menus and the like which can then be transferred to a variety of devices such as the Apple iPhone, mobile phones and DVDs.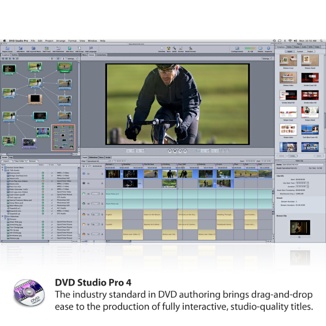 Using DVD Studio Pro 4 is a breeze, especially the drag and drop features as is the creation of discs. The program even has the option of creating DVD master discs for commercial purposes which is just one of the many features of this powerful application. Whether it's copy protection, region coding or even creating DVD covers, Apple have once again ensured that this is the definitive program and one stop shop.
Conclusion
In conclusion, Apple have once again done the unthinkable and have not only streamlined their previous incarnations of these applications but they have also added a variety of powerful new features. From movies to animation and audio, Final Cut Studio is ideal for making professional movies to more humble endeavors such as weddings or children's birthday parties.
With Final Cut Pro 7, Motion 4, Soundtrack Pro 3, Colour 1.5, Compressor 3.5 and DVD Studio Pro 4, Final Cut Studio definitely covers users from novice to professional and best of all, it has been simplified for improved productivity. Highly Recommended!