"It is evident this package has been designed by and for music and sound makers period. The list of features, plug ins and the sophisticated arrangement of contents speaks of grace and style, but with grunt. It also understands how a musician, editor, producer or performer thinks and what they may need to create and produce without compromise."

'Industry Standard'! What is industry standard? For some it's probably ProTools™ or CuBase™. Is it that straight forward or is it what we are always told or expect. The truth is in these times of accelerated technology development especially in digital recording the line has been blurred and probably will always be blurred.

For now we herald in a new era whereby choices can be made not on platform, support or market share but on design, function (ease of) price and flexibility. However, the audio software producers currently and closest to the finish line in this never ending sprint has got to be Apple and it's release of Logic Pro 8, and in hardware Apogee's Duet, Ensemble, and Symphony digital midi i/o's

Those familiar with Apple Logic need no convincing and those familiar with Apogee Digital are quietly and smugly saying, I told you so. Apple Logic Pro 8 and it's little sister Logic Express and Little brother GarageBand now teamed up with Apogee. Never has the marriage of two entities been so exciting, not since Mick & Keef or Kylie and Jason. More about that later.

Logic Pro 8 by Apple Mac

Even at the uploading phase you get very excited by the enormous amount of potential this package is offering. Even before the uploading stage opening the elegantly designed box and its contents neatly housed in flat black lines gets you excited. Stimulation for the eyes and the ears.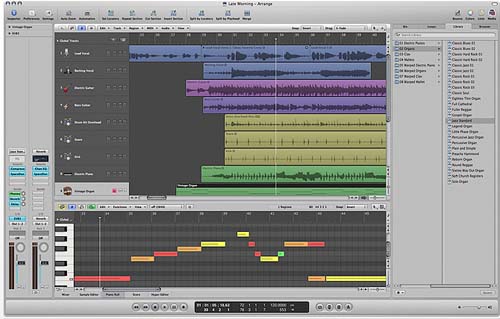 The most notable features of Logic (before even uploading) can be found by quickly scanning the manuals. It is evident this package has been designed by and for the music and sound maker period. The list of features, plug ins and the sophisticated arrangement of contents speaks of grace and style, but with grunt. It understands how a musician, editor, producer or performer thinks and what they may need to create and produce without compromise.

I have divided up my more detailed assessment (below) to assist potential users not only as an over view but as a tour of how you might sequentially approach using Logic for the first time. I had been using Apple's Garage Band for some time as a demo and song writing tool but this was my first journey into Logic Pro.

User Interface

The much talked about culmination of all windows in the one screen view has got to be the single most important feature in regard to user interface. However, there is repetition in menus. This may not be a bad thing for it does give different users differing ways to customise their particular way of using the screen view. The file finding and browser window is a winner and those familiar with GarageBand and Logic express will feel right at home. The strongest element has got to be the 'arrange' and track edit features, especially when using multiple tracks on limited screen space.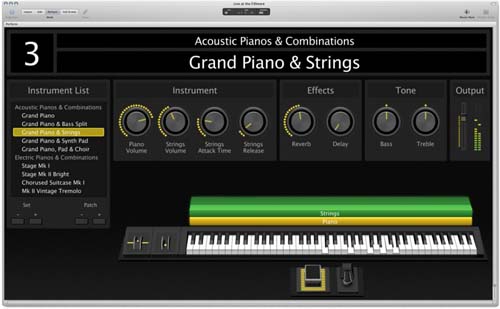 File handling

Apple Logic has perfected the file handling features and here it leaves other applications behind. As mentioned the file and browser windows and functions are great and with the ability to bounce and share tracks across many separate files makes working quickly a breeze. Transporting files between Apple Macs suite of audio and visual applications is seamless and intuitive, as we have grown to expect from Apple Mac.

Built Ins

Apple Logic comes with a mind blowing amount of built in functions and plugins, Even the most dedicated freaks will not use and explore all of these in one life time. It is always said that quality is better than quantity but not in this case the quality is there with the quantity.

What I personally liked about Logic was it's attention to sophistication not 'hypercation.' From the immense range of syns. to the very wise inclusion of Guitar Amp Pro combined with Garageband and Apple Unit (AU) processors you have voluminous options but with discerning quality and choice. It may not appeal to the crazed teenage 'Guitar Hero' devotee but it will take you back to the analogue purity of Sun Studios and then is capable of bringing you right back to the present and on into the future of an unlimited digital world.

Connectivity (spiritually and mechanically)

For any music or sound maker, editor or producer connecting with your work; your creation is paramount but all too often overlooked by software producers. Those old enough can never forget the first time they saw an automated desk or the soft green glow of multi banned equalisers. Logic as software can never replace that tactile experience and I am sure that Apple recognised this early on so rather than recreating and exploiting the 'retro' look and feel they have set about giving us the same feeling of connectedness with its unique visual equalisation features well designed dial and arranging components.
Third Party Integration

For the purpose of this review I can only talk about the integration of Apogee's Duet Audio Interface i/o. The key word here is "integration' Not only do Apple and Apogee come together on a hardware level with matching aesthetic values but they perfectly combine operational functions with true integration.

With Apogee you get legendary sound and conversion quality and for my mind and money you can't beat this partnership. How many times have you shelved out precious coin for various midi i/o's connected the device to your audio application eager to get going on your next masterpiece only to be frustrated with integration, cross platform and compatibility issues, I know I have. Don't get me wrong other i/o units will operate with Logic perhaps without problems but why compromise or settle for less when it comes to audio perfection. The Apogee Duet is the only transportable external audio interface capable of giving you that hassle free ride with an unprecedented level in quality.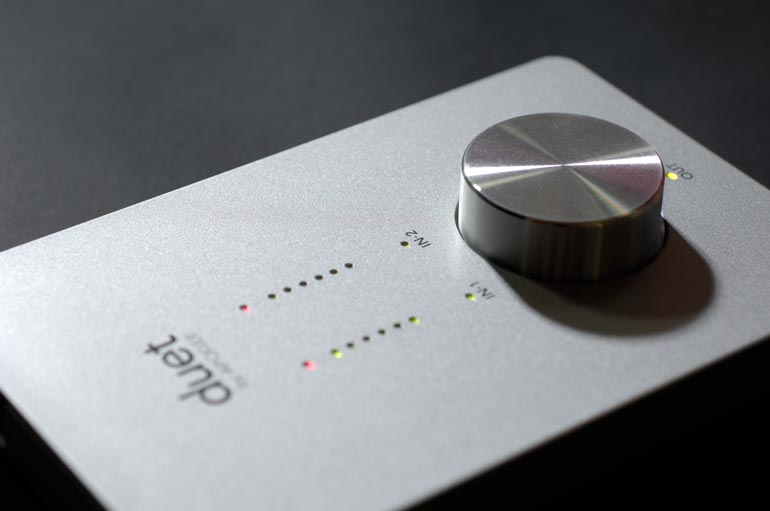 Help, Guides & Demo's

If your like me and probably most people your unlikely to sit a read volumes of instructions before embarking on your voyage into digital audio editing and creation. With Logic don't worry just dive in at the deep end and start creating. To speed things up Logic provides you with several demo files of other artist creations so you can see straight up how they have achieved their vision. The pre-formated files for composers, film score producers and musicians are a great way to get a project up and running quickly. The online support and hardcopy books make for interesting and mind boggling reading at your leisure and if stranded.

Apple Logic Pro was supplied by Apple Asia

Apogee Duet was supplied by Sound Devices, Sydney. Australian Distributor for Apogee. Web: www.sounddevices.com.au.

Matthew E Baird (aka Lionel Lee) is a well recognised Australian based singer/songwriter, musician and performer with over fifteen years experience. He has been self producing and engineering his own work for the past five years under his 'none de plume' 'Lionel Lee'. Check out: www.myspace.com/lionelee01 and www.myspace.com/pressedtinproductions.