Brett Ratner's ensemble film Tower Heist is a comedy that unfortunately relies too much on the talent of its all-star cast and not enough on story continuity or character development. Advertised as one of this year's comedy frontrunners, its blink-and-you'll-miss-it humour makes for a disappointing viewing. It is not all downhill as Eddie Murphy's return to his controversial roots is surprisingly refreshing and carries the film solidly to its conclusion.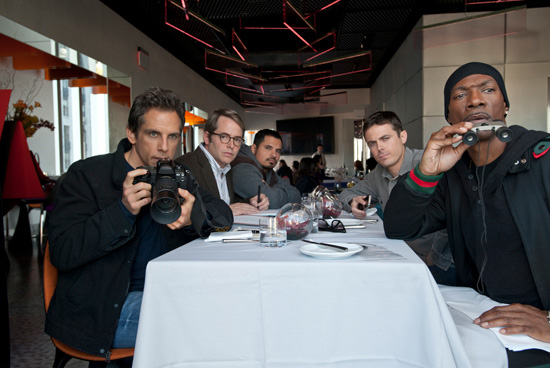 Tower Heist follows the employees of an executive apartment building 'The Tower' and the repercussions of losing their pensions after one of their resident's, businessman Arthur Shore (Alan Alda), gambles said pensions on Wall Street. After being arrested for fraud by the FBI, Arthur is placed under house arrest, pending a court date. The concierge Josh (Ben Stiller) discovers that Arthur is hiding millions of dollars in collateral somewhere within his apartment. Following an incident in the hotel, Josh and several other employees are fired. After Josh and several other employees are fired from the hotel he decides to gather a rag-tag bunch of misfits (Matthew Broderick, Casey Affleck and Gabourey Sidibe) to infiltrate the building's top security. Josh is also forced to take on petty criminal Slide (Eddie Murphy) in order to learn the tricks of the trade and become a real robbery extraordinaire. Also added into the mix is Josh's burgeoning romance with head FBI agent Claire (Tea Leoni) and his own views towards what is right and what is lawful. What transpires is an odd mix of high-speed heist meets dead-end comedy.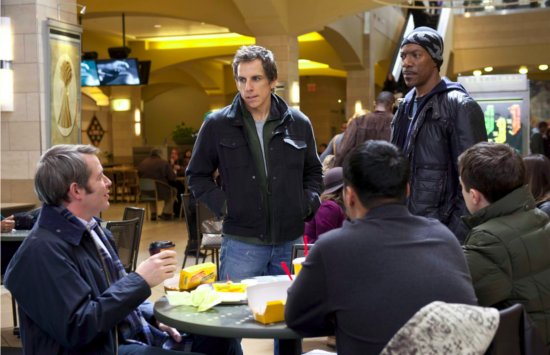 The film has all the basics for a highly entertaining viewing but in the end there is no cigar. Its main problem is its inability to balance its two chief genres of comedy and fast-paced action. Ben Stiller known internationally for his humorous displays in Zoolander (2001) and more recently in the Meet the Parents franchise is wasted as Josh because he doesn't seem to synchronise with any of the supporting cast. Murphy is fortunately able to pick up the slack and his one-twos with Sidibe's Odessa are some of the funniest points in the entire film. When Ratner chooses to concentrate primarily on the robbery aspect of the piece we are finally able to sit back and enjoy the clever planning and the endless pouring over building blueprints that should be expected in any heist film. It is particularly innovative that the characters themselves are not experts in safe infiltration or masters of impersonations like those shown in Ocean's Eleven (2001) but simply workers who know the building top to bottom due to their prolonged employment. We can assume then that I could rob my local Woolworths due to my own intimate knowledge of its workings and dollar intake. Regrettably, the conclusion descends into the impossible and the reality of the entire film is ruined by some questionable efforts. Tower Heist is a hybrid film that attempts to highlight the lighter side of mass robbery but ultimately fails to deliver on its comedic aspects. It's worth viewing for its glimmers of talent but in the end it is not a steal.