When women team up and get their hands on some picket signs, banners and a few attention-grabbing short shorts, no one should underestimate the lengths they will go to to get what they want. For the women in Nigel Cole's Made in Dagenham, the fight worth fighting for is the issue of equal pay for women in the workforce – a seemingly gargantuan task for small-town ladies. While the women initially find themselves up against a few bumbling chauvinists who don't quite know how to handle strong angry women, their activism soon stretches all the way to parliament and into their very homes. It is this very breadth and depth within the story of Made in Dagenham that makes the film so compelling, heart-warming and inspiring.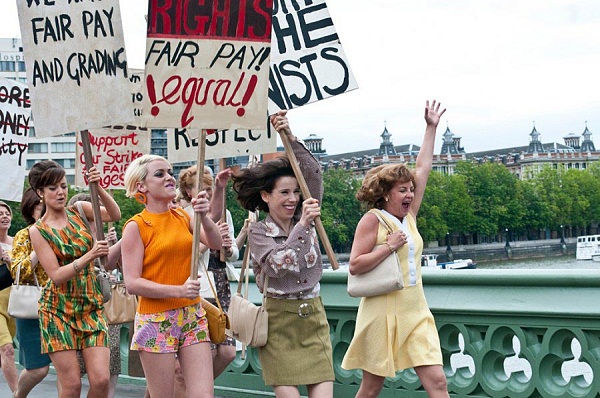 After being classified as 'unskilled' workers by their ungrateful bosses, Rita O' Grady (Sally Hawkins) and 187 other seamstresses working for the Ford plant in Dagenham go on strike in the hopes of nudging their bosses into giving them a pay rise. But as their bosses fail to take them seriously and show them the respect they expect, Rita leads her female co-workers into an all-out protest that forces them to take greater risks and inevitably catch the attention of the media and the Employment Minister, Barbara Castle. While their bright spirits and optimism propel their fight for a worthy cause, it becomes apparent to Rita that her activism affects her husband, her male co-workers and even the very women within her group of protesters.
With a story that manages to delve into various angles and aspects of feminism, Made in Dagenham provokes the audience to actually think about the issues raised without being overbearing or imposing. This is made possible by the intimate stories of family and friendship being balanced perfectly with wider ideas about human rights and equality, which ultimately need to be resolved through levels of power greater than mere Ford owners. But despite these sometimes heavy ideas and issues, the visual and musical energy of the film make it a thoroughly enjoyable, spirit-lifting ride. Inspired by the fashion and music of the late '60s, the film immerses itself into the atmosphere and fun-loving attitude of the British women through bright colours and simple music that perfectly accompanies each scene without making the fun forced or the sadness corny.
In addition to this, it is the incredibly likeable qualities of the women involved, the charming British humour and Sally Hawkins' performance as the very likeable and high-spirited Rita that contributes to the film's success. It is particularly interesting to see how Hawkins eye for detail – the smallest mannerisms and quizzical looks adds to Rita's personality – without seeming too deliberate or calculated in her acting.