Belkin ClearScreen Overlay
F8N365tt
We've already established that the iPad is the coolest device of 2010 but in order for your $600 to $1000 investment to last, you need a little outside help as opposed to treating it like something out of The Lourve. The biggest downside to the iPad is the touch screen which can become quite grimy from use and even worse, it is sometimes prone to scratches. This is where the Belkin ClearScreen Overlay comes to play that carefully adds an additional layer of protection to your iPad. Once installed, you can rest a little easy, knowing that the original screen is protected behind this thin layer.
Features
Protects screen against scratches and cosmetic damage
Easily adheres to iPad screen
Includes Overlay, cleaning wipe and smoothing card
This product comes with 1 screen overlay, a cleaning wipe and a smooth card to install the item. In terms of installation, the Overlay wasn't marked that well which may scare some users, however if they read the instructions on the back of the packet, you should have a minimal amount of installation issues. Just remember that it comes in three sheets, two to protect the overlay and for installation and the middle piece to rest on your iPad.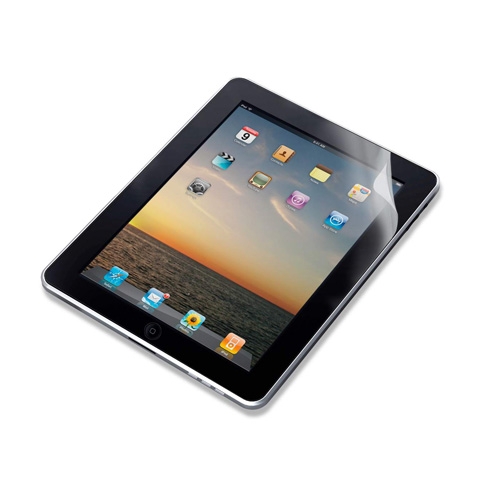 To install the Overlay, you need to remove any grime or marks from your iPad screen with the cleaning cloth. Once it is clean, you carefully need to remove the first layer of plastic from the Overlay and then line it up with the iPad. That's the hardest bit and after that, you remove the last piece of plastic and presto, your iPad has another level of protection. The final piece of the puzzle is to use the smoothing card to remove any bubbles from the installation and amazingly enough, it removed most bubbles bar one that thankfully was not on the screen.
I've used other screen overlays before and I must admit that I was quite pleasantly surprised by the end result and the smoothing card done wonders to removing those pesky air bubbles. As editor at Impulse Gamer, I'm a frequent user of the iPad and I could happily recommend this product to a variety of users because it does not hamper the iPad experience at all, rather, it allows the user to rest assured that their investment is protected.
Brilliant!