AN INTERVIEW WITH EXECUTIVE PRODUCER DON HAHN
FOR THE BLU-RAY AND DVD RELEASE OF FRANKENWEENIE
From Disney and creative genius Tim Burton (Alice In Wonderland, The Nightmare Before Christmas) comes the hilarious and offbeat Frankenweenie, a heartwarming tale about a boy and his dog.
After unexpectedly losing his beloved dog Sparky, young Victor harnesses the power of science to bring his best friend back to life – with just a few minor adjustments. He tries to hide his home-sewn creation – but when Sparky gets out, Victor's fellow students, teachers and the entire town learn that getting a new 'leash on life' can be monstrous.
Boasting an electrifying variety of bonus materials on Blu-ray and DVD, the stop-motion animated masterpiece is filled with quirky characters and unexpected twists. The madcap movie features an all-star cast including the voices of Catherine O'Hara, Martin Short, Martin Landau, Charlie Tahan, Atticus Shaffer, Robert Capron, Conchata Ferrell and Winona Ryder.
We catch up with the film's iconic executive producer, Don Hahn, to find out more…
Frankenweenie is based on Tim Burton's live-action short from 1984. When did you decide to take the short film and turn it into a stop-motion animation?
This all started in 2005, which is when I took some ideas for future projects to Tim Burton. At that point, Tim was working on Charlie And The Chocolate Factory – and Frankenweenie was one of three ideas we wanted to pitch to him. I knew Tim when the original was made, so I said to him, "There must be some more material there. There must be an expansion of that story that you couldn't fit into the 20-minute format." Tim took to the idea immediately. We asked [producer] Allison Abbate to come onboard and we started to bring in story crews. John August wrote a great script for us and then we were fully on our way. We were able to expand this idea as a big homage to the monster movies of Tim's youth.
Why did you decide to make Frankenweenie a stop-motion movie in black and white?
There were a couple of reasons behind this decision. Firstly, Tim is the kind of artist you want to support. You want to make sure his story gets on the screen in the best way possible. He's the person who wanted to do it in black and white and 3D, and we wanted to support that vision. Secondly, I feel like there's an audience fatigue factor where you get so many movies that look alike or feel like they're cut of the same cloth. I think it's really fun to do a movie like this because it feels like it has no precedent. This is stop-motion, black and white, 3D – and you haven't seen that before. It's uniquely Tim.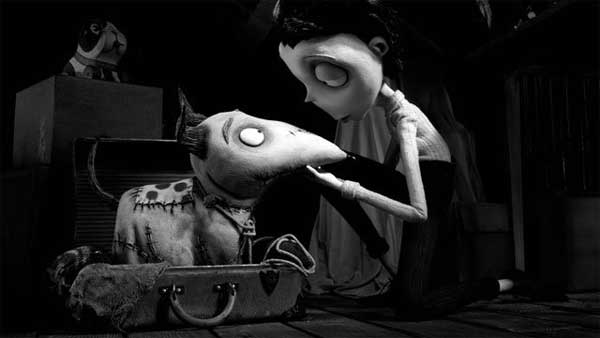 How long have you and Tim worked together?
I first met Tim in the late 70s, when we both started work at Disney. He was working on Fox And The Hound at the time and it was woefully miscast to have Tim Burton working on a movie like that. The studio recognized he wasn't quite fitting in, which is why they gave him the chance to go out and try something different: Frankenweenie. It's such a great story to have him return to the movie that gave him his start. Following on from the original short came Pee-Wee's Big Adventure and Beetlejuice, and all of those great movies – but Frankenweenie was the live-action short that started it all and gave Tim his chops. He talks about dealing with live-action actors for the first time with Frankenweenie. He talks about trying to tell people what to do and how nerve wracking that was for him.
What's it like to work with Tim Burton?
Tim is always open to ideas and he's a really, approachable, guy. What's funny is the fact that I've probably had maybe two meetings with him on this project. We all think that everybody else is meeting with him all the time, but I talked to our art director, Rick Heinricks, and he told me, "Oh, I just met with Tim for a half hour." Then I talked to [composer] Danny Elfman and he told me, "Well, I met with him for 15 minutes." You realize that Tim downloads what he wants; he talks to you, you get it and he moves on. He's not the kind of director to sit in a room for weeks on end pontificating about what he wants. He communicates it and he carries on. He's a really unique guy to work with.
How has Tim changed since you first met him?
Tim has always been incredibly introverted and really loyal to his people and to his ideas. I think it's incredible that he's able to pick up a story like Frankenweenie 30 years later. He can pick up a drawing that he did 30 years ago and say, "He looks like this." On the outside, he may have a persona or a mask that he wears to the public of being an eccentric guy, but I find him to be incredibly approachable. He has a tremendous work ethic, otherwise he wouldn't be doing the kind of films he's doing. And he's really one of the great, not just filmmakers, but great artists of our time.
What do you think you bring to Tim that he doesn't have? What is the balance between you two?
That's a good question. All I try to bring to him is a stable and safe work environment. You want to try and surround him with people who are trying to create the same movie he's creating. You also want the studio to understand his vision and be on the same page. We've been lucky on this project because the studio has been really supportive all the way along. But that's a producer's job; to put together the best people and the best crew you possibly can, and to support the director telling his story. If I do my job right, I should be pretty transparent. I should just help Tim do his work and stay out of the way.
You worked as a producer on many classic Disney animations including Beauty And The Beast and The Lion King. How has the perception of animated movies changed from then to now?
Back then, I think animation used to be marginalized or seen as a children's medium. It's not anymore. But it's also the most expressive. I love the fact that all these different techniques are starting to come back again. Computer graphics has had a wonderful run and is still a great tool to use, but I think the artists and audiences really love the idea of seeing puppets tell stories. Animation is at the forefront of the film business now. Every film you see is full of animation. You go and see The Avengers or whatever and animation has really crossed over. The lines between what is animated and what is live action are blurring, which is great.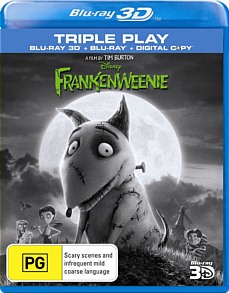 Frankenweenie is out on
Blu-ray & DVD from February 27th 2013
from all good retailers