Impulse Gamer Interviews Damien Garvey
Welcome to Impulse Gamer Damien and thanks for spending some time with us. You've had quite an Illustrious and varied film career, playing some very memorable characters. Your currently acting in the excellent TV series Rake, why do you think this TV series has become so popular?
I think that Peter Duncan and Richard Roxburgh had a very clear vision about what they wanted to do and say with Rake, and they pushed the envelope quite a bit with the second series, and that was backed up with top quality writing from Peter and Andrew Knight. So we had great characters, a top notch cast and a great story thatís broaches some very relevant issues in a very irreverent manner. All adds up to great fun!
You were also part of Channel Nine's Underbelly: The Golden Mile in 2010 and played disgraced police officer Graham "Chook" Fowler. What was it like playing a real person and what research did you do?
I mainly read transcripts and watched the news reports from the time. Playing Chook was, again, great fun, but I also felt a certain level of responsibility as well. This issue is still very much alive in a lot of the police who were in the force at time and still provokes very strong emotions amongst them.
Did you ever meet Fowler?
Nope, never met the man.
Tell us a little about Terra Nova and how you became involved in that project?3.
Terra Nova was a very ambitious and exciting Sci-Fi family drama produced by Steven Spielberg. The earth in 2149 was basically dying from pollution/ climate change and to survive, scientists had developed a portal to transport people back in time, 80 million years, to start again on an earth that was pristine, untouched and unpopulated-except for dinosaurs! I originally auditioned for a one-episode role, and (luckily for me) they liked what I did enough to ask me back to audition for the regular role of Tom Boylan.
What was the most difficult aspect about Terra Nova?
There was nothing really difficult for me in Tera Nova, it was a really great experience. The size of the production was enormous, so it took a bit to get used to that but ultimately youíre still doing the same thing, helping to tell a story. I always think shoots are more difficult for the crew, and the Terra Nova crew worked very hard, for very long hours.
Interestingly enough you played an "Australian" bar keeper in Terra Nova, what did you like about this character.5.
Yeah, how good was that? I thought it was very brave of the production to go that way. I remember going for the second audition and was told to prepare it in both American and Australian, but when I got to the audition, they didnít even want to hear the American, so it was a rare thing, and I thoroughly enjoyed it.
Itís a shame that Terra Nova never got renewed for a second season, were there any plans to continue the series?
Yep, very disappointing. Yes it was always intended to be a long running series, and everyone was quite hopeful that we would get a second season, but the powers that be decide not to...so...what can you do?
Tell us a little about your character in Rake, Cal McGregor?
Cal McGregor is a career politician who knows how the system works and doesnít get caught up in the emotions of politics. He is very goal orientated, confident and doesnít suffer fools gladly. Heís got a job to do, and he does it.
What are some of the challenges playing McGregor?
Cal was so well written that the only real challenge I had was to match the performance to the script, and to find his personal life behind the politics.
Did you get any real-life inspiration from any Attorney-Generals to play Cal McGregor?
Not so much Attorney-Generals, but politicians in general. Strangely I quite enjoying watching question time, and thereís a real gaggle of characters in that show. Thereís a bit of Graham Richardson in him.
Just like Terra Nova, there were some high calibre actors in Rake, what was it like acting with this amazing cast?
Well itís one of the things that you work towards as an actor, to work with the best. The process actually becomes a lot easier because everyone is there because they are confident in their ability and very good at their craft, so thereís a lot of generosity and cheekiness that goes on.
Whatís the funniest thing that has happened on set to you, either in Rake or elsewhere?
Very early in my career I landed a television role as a police officer, and I had a very emotional scene, in which I had to put down the sick horse of a friend. I talked to the horse and tried to explain what I was about to do and that I was sorry, and then I had to shoot it. Iím a massive animal lover so of course I found it a very sad scene to do. So Iím with this horse, very emotional, shoot the horse, and.... cut! The Director jumps up from the camera and excitedly strides towards me exclaiming, ďthat was brilliant! absolutely brilliant!Ē Naturally I was quite chuffed, Iím smiling, saying thanks, thinking, you know, ďI nailed it, great!Ē, until he strode straight past me and knelt down next to the horse, saying ďthat was brilliant!, just absolutely brilliant!, what a fantastic horse!Ē WC Fields mightíve had a point about never working with children and animals after all.
As an actor, what do you think your biggest challenge is?
Listening. Not just to the words, but to the other person.
What happens when you forget (if ever), your lines?
If I ever forget my lines, itís because Iím not focussed, or not listening, basically not doing my job, I apologise and get my shit together. But I always prepare very thoroughly, so luckily it doesnít happen too often.
If you could play any character, what would your dream role be?
Iíd like to play Walter White from Breaking Bad Ö but that role is taken, so maybe a morally dubious, drug addled private eye with a heart of gold, an evangelist with issues.
Can you tell us what future roles in will be playing on TV or in the movies?
Next on screen will be Laurie, the Park Ranger, in the upcoming Jonathan Shiff production of Reef Doctors. I think it screens in January.
Thanks for your time Damien and all the best!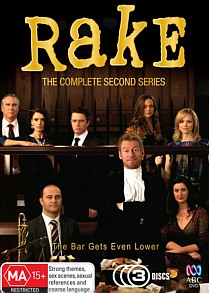 Rake the Complete Second Series is available on Blu-ray & DVD from the
7th of November 2012