CATHERINE THE GREAT
The former Darling Bud of May waxes lyrical on script appeal, on-screen embraces and why Matt Damon is on her Christmas list.

No-one can ever accuse the 'Jones Douglas' household of being run of the mill, but one assumes it comes with the territory when mum and dad are a dynamic, Oscar-winning powerhouse couple. Still, it must be somewhat unusual when young Dylan and Carys come home from school and learn that mum was kissing Dragon Tattoo actress Rooney Mara while dad was necking Matt Damon.

"It's a little left of centre, I'll admit," Catherine Zeta Jones feverishly giggles, "but a job is a job at the end of the day."

The Welsh beauty, 43, stars alongside Mara, Jude Law and Channing Tatum in psychological drama Side Effects where, during proceedings, the aforementioned embrace takes place.

"I just wish she was prettier," Jones laughs. "She's not funny. She's not pretty. She can't act. Surely Steven [Sodebergh, director] could have done a little better for me?!"

At the same time, hubbie Michael Douglas is currently shooting Behind The Candelabra, portraying Liberace alongside Matt Damon as her lover, who paid Catherine a rather hefty compliment.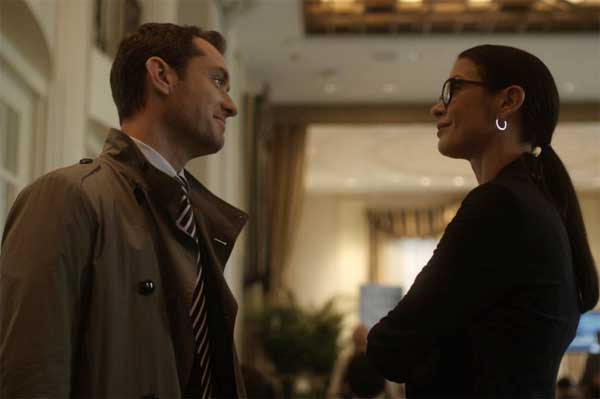 "If my husband's going to kiss anyone else in the world, I'm so happy it's Matt Damon and not Rooney Mara. It's funny, when Matt Damon was kissing Michael, he closed his eyes and pretended he was kissing me.

"He said that to Michael. Matt was closing his eyes and kissing Michael and pretending he was kissing me, and I thought that was one of the biggest compliments I've ever had! It's so screwed up."

An Oscar-winning screen goddess, Jones has carved out a diversely successful career since her debut on The Darling Buds of May. Crossing the Atlantic, Hollywood fell for her sultry dark features, which helped the young star land the lead opposite Antonio Banderas in The Mask of Zorro.

Other show-stopping performances in Entrapment, Intolerable Cruelty and High Fidelity cemented her place in the a-list. And one director in particular has always held a soft spot for Jones.

"I'll always come back to Steven," she says. "He rubbed my feet when I was pregnant in Traffic, and that's the only reason why I keep coming back. He looked after a pregnant woman so well and I just knew I'd always be in good hands."

After working together on Ocean's Twelve, the pair have reteamed again for Side Effects, as Zeta-Jones plays a psychologist in nail-biting thriller which sees a young woman (Mara) become dangerously addicted to experimental medication prescribed by her doctor (Law).

Incidentally, Catherine has coped with her own psychological stresses in the past after revealed in 2011 she suffered from bipolar disorder following her husband's throat cancer battle. And Side Effects gave her a chance to examine the medical perspective.
"I'm thrilled that Steven cast me as a doctor because I never went to college and I always wanted an MD after my name. I'm really quite flattered that he fulfilled my mother's dream."

Catherine adds why a script needs to be special to tear the devoted wife and mum away from her family. "It takes me a lot to leave my kids and my husband and my dogs, so this had all the elements that got me straight on a plane the moment that Steven asked me to do this.

"All of the elements just fell into place," she explains. "It's a fantastic script; it's a roller coaster ride. To work with Steven for the third time was an absolute treat and to work with the calibre of actors that he cast so beautifully was a slam-dunk for me really."

Jones, who won the Oscar for Supporting Actress for Chicago while heavily pregnant with her daughter Carys in 2003, took some time out recently to focus on her family and health, but last year witnessed a blistering return to form in musical Rock of Ages. And audiences can look forward to marital deception in Broken City, and the highly anticipated sequel to geriatric spy comedy, Red.

"Like I said earlier, I find it really hard to leave my children. I think I'll never get these beautiful, formative, delicious years back.

"Side Effects, obviously, was a must for me and to work with Steven for the third time. I'd pretty much do the phone book with him if he asked me.

"And Red, well, the first was a blast with an ensemble cast of John Malkovich, Helen Mirren, Bruce Willis. Doing the sequel made sense to me. That sounded like fun. It's on a completely different level to what this movie is. It's completely different. I look for those movies that I can surround myself with great people and I know I'd love turning up to work every day."