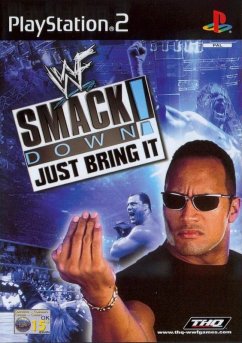 WWF Smackdown: Just Bring It screenshot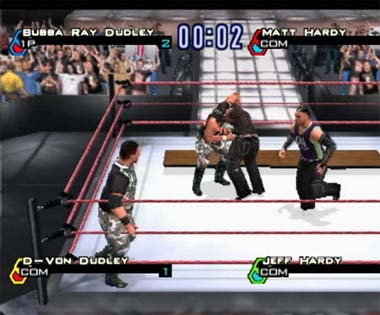 The Final Say!
Gameplay
8.5
Graphics
8.0
Sound
8.5
Value
8.5
WWF Smackdown: Just Bring It
- reviewed by Andrew B
Review Date: 22 January 2002
Review Score: 8/10
Distributed By: THQ

Even before you step into the ring, you feel like you are watching an actual WWF Match as the ring entrances are almost identical to that of television. Other bonuses included are special effects, theme music, videos and the crowd going wild. Unlike other wrestling games where you are limited to certain moves, WWF Smackdown offers you a whole variety of moves and specials that are unique to each wrestler and will sure to leave you wanting more. The controls and moves are very easy to learn and pull off in this game. There are dozens of game modes to chose from such as Exhibition Modes for that quick game or Story Modes that lets you go behind the scenes of the WWF with your manager.
The graphics for WWF Smackdown are truly outstanding for this type of game. The polygon count is high on all wrestlers and even the faces look very similar to the actual wrestlers themselves. Little effects such as the crowd jumping up and down, holding signs or even the large video screens in the background all help add to the atmosphere of this game. The music from the game is top notch and features the original music of the WWF wrestlers plus the sound effects really help you thud and bang your opponents. The only downside with the sound is the commentary which does become repetative.
WWF Smackdown! Just Bring It is a great game for wrestling fans. Just remember that the real downside to this game is that your friends will start coming over more and more to play this awesome game. Because the multiplayer mode in this game is really outstanding!
- Andrew B