Wipeout Fusion screenshot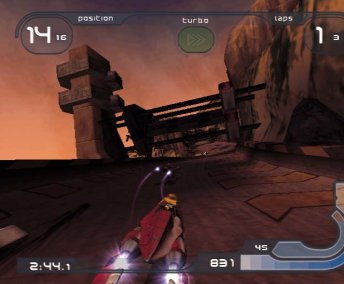 The Final Say!
Gameplay
8.0
Graphics
8.0
Sound
8.0
Value
8.0
Wipeout Fusion - reviewed by Tory F
Review Date: 25 December 2001 (Merry Xmas!)
Review Score: 8/10
Distributed By: Sony Computer Entertainment

Wipeout Fusion brings the proud traditions of the Wipeout series to the PS2. The futuristic racer has made the leap to the black box and not a great deal has changed.

Is this a good thing? You bet!

The gameplay is still fast and furious with weapons and powerup attainable from the track as you race for both the glory of winning and quite frankly your survival.

Tracks are unlockable and are thrilling to race on. Graphically Wipeout Fusion is leagues ahead of it's predecessors with a multiplayer mode being a joy to play.

Some of the twist and turns that are taken during races look so realistic you lose your breath with some of the dips and twists.

So if it's a futuristic racer that you are after to satisfy those speed cravings, Wipeout Fusion will be your cup of tea. There were no faults with the title other than no truly new innovations being introduced with this title, but that's not always a bad thing.
- Tory F