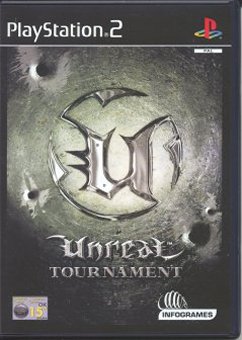 The Final Say!
Gameplay
8.0
Graphics
8.5
Sound
8.5
Value
8.5
Unreal Tournament - reviewed by Tory F
Review Date: 25 December 2001 (Merry Xmas!)
Review Score: 8.5/10
Distributed By: Infogrames
Unreal Tournament kindly provided for review by Tory F
Unreal Tournament for the PS2 was and is a very faithful port of the PC first person shooter title. Supporting both mouse and keyboard, Unreal Tournament showed the PC gaming fraternity that the PS2 had the grunt to provide a deeply satisfying deathmatch experience.

The shallow storyline surrounding the game doesn't take anything away and is as simple as this: A powerful businessman has established a tournament for the bloodthirsty elite in which you as the player take part.

You work your way through the tournament 'ladder', unlocking new events as you progress. The game has a high replay factor and the AI of your opponents isn't too bad at all.

Gameplay is fantastic, as are the events:

Deathmatch
Capture the Flag
Domination
Assault

Graphics are brilliant and framerates impressive. Multiplayer is a joy, with 2 player having been reviewed with success. A nice part of the game is that you have team-mates for most events that give you the feel of being in an online situation with real players.

The bots (artificial players) work effectively together and for you and will brag and boast when bringing down an enemy.

All said and done, Unreal Tournament is a joy to play either single player or with a friend. Support for 4 players is available with the Multitap.
- Tory F