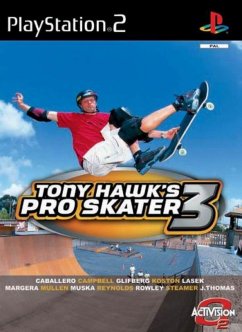 The Final Say!
Gameplay
10
Graphics
10
Sound
10
Value
10
Tony Hawk's Pro Skater 3
- reviewed by Tory F
Review Date: 25 December 2001 (Merry Xmas!)
Review Score 10/10
Distributed By: Activision

Tony Hawk's Pro Skater 3
kindly provided for review by Tory F
Its a very rare occasion that you happen past the perfect game but ladies and gentlemen, I present one to you now... Tony Hawk's Pro Skater 3!

For fans of the series, the third instalment will have you weeping with joy. Everything has been done to perfection including a very well thought out multiplayer mode and even the facility to go online when the modem becomes available.

Most of the regular crew are back with only a few changes having been made.

Truly showing off the power of the PS2's rendering ability, THPS3 is an absolute delight to play and the controls are intuitive and extremely easy to use.

As per previous instalments, you have set tasks to complete in order to proceed. These serve to give the player a sense or purpose as well as adding a new perspective to the game.

An interesting feature is the in-depth tutorial section with commentary from none other than the chairman of the board himself, Tony Hawk!. Tony will show the basics of skating all the way through to the more challenging tricks that you can do.

A wonderful addition to your arsenal is the "revert" which enables you to combine ramp and ground tricks that combine to make for massive scores.
There is no excuse for this title not being a part of everyone's collection. Go and get Tony Hawk's Pro Skater 3 today!
- Tory F