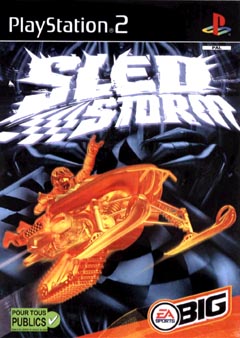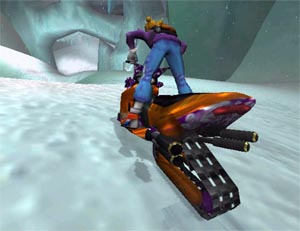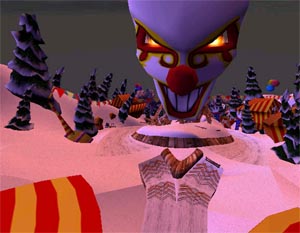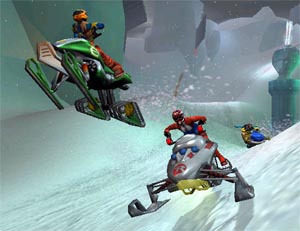 The Final Say!
Gameplay
9.1
Graphics
9.0
Sound
8.5
Value
8.9
Sled Storm
- reviewed by Andrew B
Review Date: 7 April 2002
Review Score: 9/10
Distributor: EA
Sled Storm is the next instalment of wild snow games from the makers of SSX Tricky. The idea behind Sled Storm is to race high powered snow sleds across wickedly dangerous terrains. You must also perform spectacular tricks in order to gain points that can be converted into turbo boosts.

You get to choose from an array of "cool" characters. As with the SSX Tricky games, the developers have gone to extreme lengths in getting the right voices for each character. Every character is different, annoying, fun and helps give the game an edge that will surely make this one popular title.

One of the characters is Tracey Maretti who is a very lean and cute 27 year old who specialises in a strategic riding style with a medium assortment of tricks. The more you play this title, the greater amount of character choices you have. For example, later on in the title, you will be able to play Sam Griffin who is a very cool 21 year old who's riding style is extremely reckless but fun. His trick capability is extremely high which means you can pull off some wildly amazing tricks.

Although you cannot access all the characters from the beginning of the game, you will be able to race against them all. Be careful of expert racers such as TJ Rallins who's riding style is very aggressive. These AI opponents will do their hardest to mess your perfect run.

Once you have selected your character, the game

starts with a beautiful in-game cinematic of the track you are about to play with a voice over from the commentators. This highlights the brilliant graphics of this title and even though this game uses a modified version of the SSX Tricky engine, its still the best damn engine there is. The terrain detail is spectacular, from awesome lighting effects, trees, rocks, tunnels, ice and a wide variety of special effects. The detail of the players is great and everyone has a unique feel and play to them.

The controls of Sled Storm is extremely easy to pick up and after one or two races, you will be ready to take on almost the best racers. The premise of this game is to win but thankfully with the help of performing tricks, your points are turned into turbo boosts (storm boosts). The more tricks you pull off, the more times you can you use your turbo powered race sled. This is a neat effect when you use it, the controller shakes and the screen goes into motion blur. Be warned though, if you fail to pull off a trick, you'll witness a spectacular crash that may cost your position.