Parappa The Rapper 2 screenshot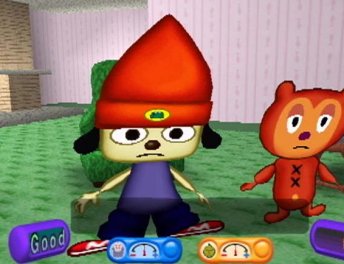 The Final Say!
Gameplay
6.0
Graphics
7.0
Sound
8.0
Value
7.5
Parappa The Rapper 2
- reviewed by Tory F
Review Date: 24 February 2002
Review Score: 7/10
Distributed By: Sony Computer Entertainment
"That funny little dog is back with fresh tunes in Parappa the Rapper 2"

For those of you who have already met Parappa in the past, please go onto the next paragraph while I introduce Parappa to everyone else. OK, now that they have gone, the storyline is simple: You being Parappa, are a dog that raps! It's that simple, Parappa hooks up with his friends who all rap to him and he has to rap back by you pressing the correct buttons in time to the music.
In this action packed instalment, Parappa has won a lifetime's supply of noodles and of course as a result he is doing nothing else but eating noodles for breakfast, lunch and dinner which irks his friends and girlfriend especially.
So we have to help Parappa interact with his friends in order to learn a little more about food (really!). The game's functionality is extremely limited with characters merely rhyming and you have to hit the correct sequence of buttons in time to the music to make Parappa mimic the onscreen prompts.
In as far as the game goes, it executes it's purpose perfectly and the tunes will have you bopping your head like a metronome in time to the music. Even if you don't like the music, you will need to mark the tunes somehow! The beats are funky however and as ridiculous as the rhymes are, you will button mash your heart out.