The Mummy Returns screenshots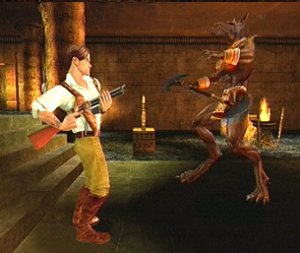 The Final Say!
Gameplay
6.0
Graphics
7.0
Sound
7.0
Value
5.0
The Mummy Returns
- reviewed by Tory F
Review Date: 24 February 2002
Review Score: 6.25/10
Score not based on a average.
Distributed By: Vivendi Universal
"Where's the People's Elbow Now?"

Following the success of the smash hit movie, "The Mummy", is "The Mummy Returns" and this movie tie-in.
This game was a tough nut to review for a number of reasons, mainly due to it's poor execution but fantastic vision. That doesn't make sense I can hear you exclaim, so let me explain.

The game follows the plot of the movie to a large extent and does it's best to make this game accessible for anyone who might pick the title up. For the most part the game succeeds valiantly. You can play the part of the hero, Rick O'Connell played by Brendan Fraser or in a nice twist play the part of the villainous mummy Imhotep.

The move to include two characters is a great one and something that other developers could stand to take note of. By choosing one character or the other, you will embark upon a totally different adventure.

The characters sound and look like they do in the movie and the control system is done is such a way that you don't have any true learning curve figuring out how to play the title.

And it's at this point that the game's inherent faults take over and spoil what could be a great title for the most part.

Bad camera angles prevail resulting in missed items or ambushes by enemies who were standing in plain view had the camera worked properly. Tunnels without proper light sourcing, forcing you to blindly stagger around hoping to see something,

However as you can clearly see from these beautiful screenshots, the game when visible is extremely detailed and does not fail to impress visually. The attention to detail is a credit to the game and enhances a sometime awkward gaming experience.