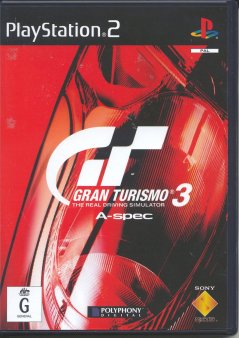 The Final Say!
Gameplay
8.0
Graphics
9.0
Sound
9.0
Value
8.5
Gran Turismo 3: A Spec
- reviewed by Tory F
Review Date: 27 December 2001
Review Score 8.5/10
Distributed By: Sony Computer Entertainment
Gran Turismo 3: A Spec provided for review by Tory F
The King is back and all comers must take notice! Grand Turismo the real driving simulator dropped earlier in 2001 becoming the first true "killer app" title for Playstation 2.
What is a killer app? A killer app is a game or function that is so awesome that people are prepared to outlay whatever money it takes to play or use the item. I remember on the launch I was dealing with customers buying a PS2 specifically to play GT3.


GT3 allows you to drive the ultimate cars in the ultimate racing environments. The level of graphics was unprecedented with the quality of ingame and after game replay graphics being confused in some cases with real video footage such was the level of perfection.

Control of all vehicles is perfect, leaving you fully convinced that you are behind the wheel of your chosen car.

Now after all that praise here are some of the negatives. The AI of the opponent vehicles is ridiculously easy to beat and considering another negative is that you cannot damage the vehicles at all, the easiest way to win is to bash your way through the pack as they won't try to avoid you.