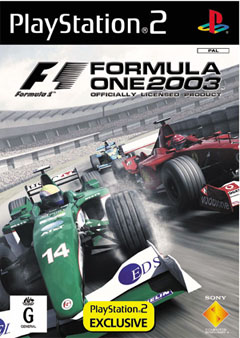 Formula One 2003 screenshots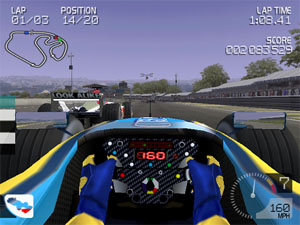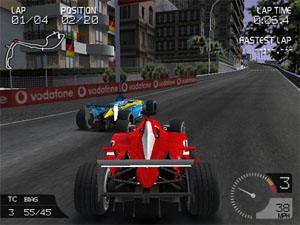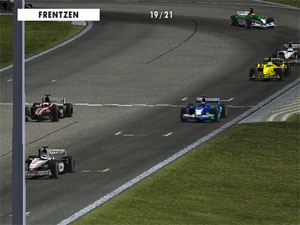 The Final Say!
Gameplay
8.3
Graphics
8.2
Sound
8.5
Value
8.4
Formula One 2003
-
reviewed by Andrew B
Review Date: 20 July 2003
Review Score 8/10
Distributed By: Sony
Formula One 2003 is the current incarnation of the extremely popular Sony F1 game series that features a modified engine from 2002 and the official 2003 rules. Apart from the new Formula One rules system of 2003, all the official teams, cars and drivers are included in this awesome formula one game package.

F1 2003 offers gamers the choice of a variety of different single player gameplay modes that include arcade, arcade season, custom race, race weekend, time attack and world championship. Whereas the multiplayer aspect of the game includes hot seat, arcade race, custom race and time attack. All these different gameplay modes easily makes F1 2003 one of the most varied race games on the market at the moment.
If you are looking for a fast and quick gaming session then I would highly recommend the arcade mode that lets you race around one of the 16 official world circuits of Formula One, whereas the world championship mode lets you play an entire Formula One season using the actually 2003 teams, grids and rules.

I was pleasantly surprised at the handling of the game and every car performed and handled remarkably well via the Sony PlayStation 2 DualShock controller. The cars also handled extremely well in the arcade mode and you could virtually slide around corners without losing too much traction. The arcade modes are designed for fast racing without the hassles of realistic world-based physics.
On the other hand while playing the world championship mode, one wrong turn had you spinning around in circles that either led you onto the grass or gravel and if you were not lucky, the concrete barrier itself. If you are not familiar with the official race circuits, the game alerts you to upcoming turns so you can adjust the speed of your formula one car so you can safely navigate around the corner without losing total control.

Graphically, F1 2003 is one of the most impressive games on the market at the moment that offers gamers the adrenaline experience of Formula One racing. The car models are extremely detailed and featured a very high polygon count that help add to the realism of the game. Match that with extremely good looking textures and then some advertising and you have a match made in Formula One gamer heaven. Even with 20 cars racing on screen at once, the game engine doesn't even slow and remains at a very impressive and smooth frame rate. The game also boasts some real world physics and when you crash your car, it actually handles very poorly around the track. The unfortunately thing is, there is hardly any physical damage to you car which is unfortunate.