PS2 Reviews: Disney's Peter Pan: Legend of Never Land
Disney's Peter Pan: Legend of Never Land Screenshots

The Final Say!

Gameplay
8.5

Graphics
8.5

Sound
7.5

Value
8.0

Disney's Peter Pan: Legend of Never Land

- reviewed by Andrew B
Review Date: 5 April 2002
Review Score: 8.5/10
Distributor: Sony Entertainment

"Return to Never Land in this wonderful tale from Disney Interactive"

2002 is the year of Peter Pan, with an all new movie from Disney and three very different Peter Pan games on the PS2, PS1 and Gameboy Advance. Disney's Peter Pan: Legend of Never Land is title of the new PS2 game. Unlike previous Peter Pan games, the PS2 version isn't just aimed at the kid's market but with its stunning graphics and game-play, older players will definitely get a big buzz out of this title.

Legend of Never Land is a gorgeously designed 3D plat-former that allows you to control Peter Pan in the stunningly recreated world of Never Land. Peter Pan seems a little older now and maybe a little wiser but this will probably be one of his toughest adventures yet. The storyline involves the diabolical Captain Hook who is stealing Never Land's reserves of magical pixie dust and has even kidnapped a group of faeries. Captain Hook will stop at nothing and will use all his resources to take over Never Land. This heinous act has even caused Peter to lose the ability of flight but thankfully he can still glide if needed.

Wearing your green tights and putting on your green cap, you are ready to face the challenges of Captain Hook and rescue the fairies and put Never Land back into a place of harmony. There are dozens of different playing environments throughout the game, from beautifully designed coastal beaches to dark mysterious tropical forests. Thankfully Peter Pan is equipped with his trust short sword so he can take on the forces of Captain Hook and defend himself form the dangers of Never Land.

As Peter Pan, you have a variety of different abilities to help your through this game. Controlling Peter Pan has never been easier, you use the analog stick to move directions and you have the ability to jump, flip, twist and use your short sword. Combat is very easy as most Disney games are and Peter Pan fights like a dashing swashbuckler when he is facing one of Captain Hook's nasty follows, easily dispatching them and leaving them unconscious.
Peter Pan also has the ability to glide which is very useful is you are trying to jump over large distances. The rewards in the game are little clips from the Disney Film, although these clips are not as good as Monsters Inc was, they do help give the game a great feel and atmosphere to it. Remembering this, Disney's Peter Pan: Legend of Never Land is ten folds better than Monsters Inc was.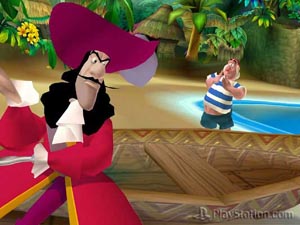 The game-play of Peter Pan is a traditional 3D plat-former where you must jump, solve puzzles, dodge & solve traps, collect treasures and fight your way through the game. The music of this title is straight out of a Disney movie and helps keep the adventure going. The developers at Disney Interactive have gone to extraordinary efforts in recreating the wonderful world of Never Land, everything in this game is top class.

Disney's Peter Pan: Legend of Never Land is a very fun game and I would highly recommend this game to parents with children or for those more mature players who crave for a good old fashioned 3D plat-former game. Highly Recommended!

- Andrew B

Copyright ©2002 www.impulsegamer.com