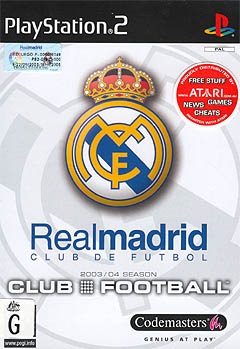 Real Madrid Club Football screenshots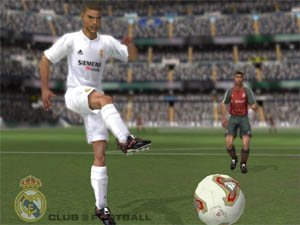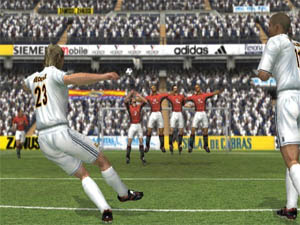 The Final Say!
Gameplay
6.0
Graphics
7.0
Sound
7.0
Value
6.0
Real Madrid Club Football
-
reviewed by Anthony Luscombe
Review Date: November 2003
Review Score 6.5/10
Distributed: Atari Australia
"It's time to play for the greatest team the world has ever seen..."
From the makers of TOCA and Colin McCrae Rally comes Club Football Real Madrid. This title has been customized to suit the tribalism of the game by producing individual games specifically featuring the European giants of the game such as Real Madrid, Manchester United, Celtic, Chelsea, Arsenal, Leeds, Aston Villa, Rangers, Liverpool, Milan, Inter, Ajax, Dortmund, Bayern Munich, and Barcelona. So if you are a mad keen supporter of any of those clubs you need to make sure you buy the correct version.
The game itself is a pretty standard looking sports simulation. You wonít find too many surprises. All the usual bells and whistles are there. You can create yourself as a player on the squad with customised face, skills and stats. There are photos and video footage of your teamís greatest moments in history. There are different types of game modes such as domestic season, European Super League and Custom tournaments.
Game play and controls are quite similar to what you get with other soccer simulations on the market. So if you have had any experience beforehand than you will know what to expect. You only need to hone the way you get the ball into scoring positions and master the minor vagaries that separate this from previous games. Another feature is a power meter, which allows you to better judge the strength of your various kicks such as passes or shots on goal.
Graphically it is quite attractive. There are little differences between it and other major titles in the genre. Players are easily recognisable if you know the various famous faces of the soccer world such as a David Beckham and the stadiums are reproduced as good as any in the games world today. One thing graphically that was a let down with this game was that the players do not appear to be as fluid and natural as you can find with similar soccer titles on the market at the moment. Also ball movement at times particularly from goal kicks does not look as authentic as you would expect.
Sound wise the game is good and adds to the atmosphere of a big match, all the usual chanting and noise effects, which you expect from a vociferous football crowd, are well recreated. Gary Linekar and Barry Davies provide the commentary in English and it flows well in the game. You can also listen to the matches in French, German, Spanish and Italian.
Overall not a bad soccer simulation but unless you specifically want a game tailored to your particular club such as a Real Madrid with no international teams, you would have to ask yourself why would you purchase this game over EAís FIFA 2004 or Konamiís Pro Evolution 3 to name a couple on the market at the moment. In those titles you get all the same features but better graphics, and superior game play.
- Anthony Luscombe