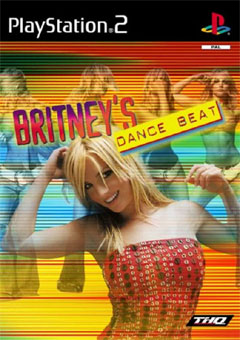 Britney's Dance Beat Screenshots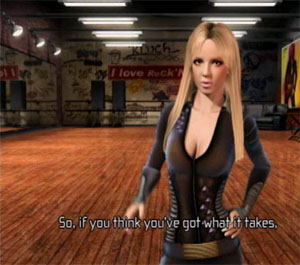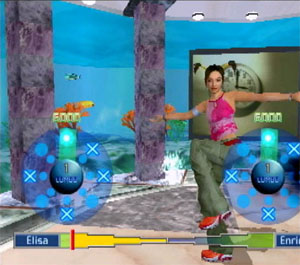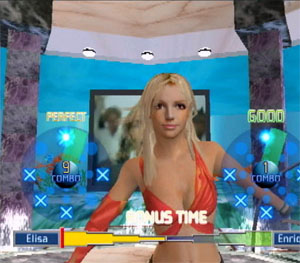 The Final Say!
Gameplay
8.5
Graphics
9.0
Sound
9.0
Value
8.8
Britney's Dance Beat
- reviewed by Andrew B
Review Date: 27th July 2002
Review Score 8.9/10
Distributed By: THQ

"Britney's Dance Beat is a visual and musical treat that makes you feel you are part of a music video."

Britney's Dance Beat is a extremely cute and highly addictive dance game that is ideal for kids, gamers and girls of all ages. If this game can be compared to something that is currently on the gaming market, than SEGA's Space Channel 5 is that game. Both games are fun and addictive but Britney's Dance Beat uses the full power of the PS2, unlike Space Channel 5.

The premise of Britney's Dance Beat is simple, you must go through various dance auditions to eventually become
part of Britney's dance troupe. There are six different dancers that you can choose from that include the cute Elisa, Rob, Leana, Dan, the smooth Enrique and the sexy Carla. All characters are of different nationalities and have their own unique dance styles. You must go head-to-head with the other dancers in order to move to the next audition.
There are three levels in the game with each level featuring 5 auditions that gradually get harder as your progress. For instance, the first 5 auditions features mini versions of the five songs in the game, whereas the last 5 auditions feature the full length versions of the songs. Needless to say, this can be extremely difficult if you are not familiar with the PS2 controller.

In order to pull off various dance moves, the game includes a circular dial that displays the various buttons on your controller that you must push, e.g. square, triangle, circle and X. You must hit these buttons at the right time in order to pull off the correct dance moves. You either get a Miss, Good or Perfect rating on how well your reflexes are. There is also a bar down the bottom of the screen that features a red line, in order to win the audition, this red line must be on your side of the screen. By pulling off the right dance moves and performing your own combo's, this bar will generally stay on your side of the screen.

The beauty of Britney's Dance Beat is that when you pull off a successfully dance combo, you send your opponent a bad dance moves that ruins their dancing. This is quite fun when you are in two player mode because this game is really great when you have a few friends over.

As you progress through the game, you earn backstage passes that gives you access to a behind the scenes look at what happens before a Britney Spears concert. It's basically a 360 degrees video that lets you zoom and rotate around the warm-up before the concert. You get to see what stage hands do, the dancers warming up and dancing and even Britney herself. It's actually quite cool when you first see it and gives you an incentive to completing the game.

There are three types of gameplay modes that include Audition, Practice and Two-Player modes plus various other options such as the Video Vault and Preview.