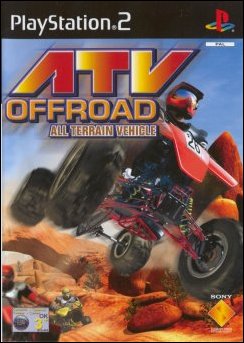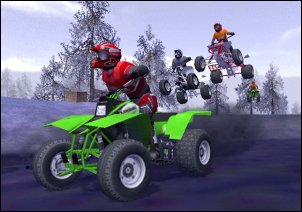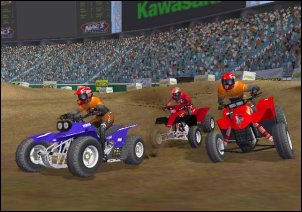 The Final Say!
Gameplay
8.0
Graphics
7.5
Sound
7.5
Value
7.5
ATV Offroad - reviewed by Tory F
Review Date: 10 October 2001
Review Score 7.5/10
Distributed By: Sony
ATVs. Four wheeled motorbikes, call them what you will, this title by developer Rainbow is for the big kid in us all and was heartily enjoyed by this reviewer.
Longevity abounds for this title with a multiplayer supporting 4 players via Multitap. The single player game is also rewarding with free roaming or actual competition. There are a multitude of game play modes such as Cross Country Enduro, Stadium Supercross and the Maxxis Grand Nationals.

A forgiving physics engine actually enhances the joy of riding around like a madman. Environments are huge and you can quite happily putter around the course practising stunts in free roaming mode.
Split screen does not cause any noticeable frame-rate drops with the natural processing power of the PS2 handling the grunt work.
Not all is kosher however with this title with PC gamers instantly recognising graphics and sounds and indeed some maps as living in Motocross Madness 2 (in itself a brilliant title).

Another somewhat annoying feature is the computer controlled AI of your opponents. You can be trundling along in last place and in the last lap, one jump can see you win or at least qualify for the next race.

There are a multitude of ATV's to choose from and choose carefully you should as they are all controlled very differently. Some have reported as annoying the fact that the ATV launches over the smallest bump however this reviewer reminds folk that this is not a simulator and it a fun game that will have a long life in your machine. If you want real, stick with GT3. I would even go so far as to say it would make a great party game as with free roaming mode you can just go crazy.
Some maps are a little bit washed out colour-wise however the sheer fun of going airborne and then tricking out fully makes up for this.
The Dualshock 2 is utilised fantastically for this title with analog sticks providing better control of your vehicle. Remember that the ATV can be corrected mid air and as long as you land on four wheels you can survive all but the worst of landings.

I thoroughly recommend this title to anyone with a PS2 who wants to have a lot of fun with a groovy game. Rainbow understands that not everyone wants to compete in every game and the free roaming will find a lot of people participating in the game that would otherwise steer clear. A pumping old skool soundtrack compliments this game perfectly.

- Tory Favro.