"Managing your everyday contacts has never been easier!"

Who I Know is the latest contacts manager from the Contact Plus Corporation that is a modern day version of the teledex. Rather than having your contacts in a variety of different file types, Who I know streamlines all this information into one simple to use database.

The installation of Who I Know contacts manager was a breeze and once the CD was inserted into the drive, it simply auto prompted me whether or not I wished to install the program. The installation itself took under a minute on our Pentium 4 1.7Mhz, 512MB and 40GB hard drive test machine. The program also comes with a very in-depth printed users manual
Once the software was successfully installed on our test machine, I then proceeded to run the program and was pleasantly surprised at the user friendly interface. I must admit that in the past, I've experienced some horrendous database interfaces but fortunately my fears were put to rest.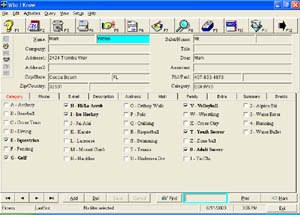 To create a new database in Who I Know, you simply go to the File menu and click on new database. The user must then input a database name and a description of the database before they can continue. Unfortunately the database name cannot be more than 8 characters in length but fortunately the description part of the database makes up for this limitation.
Even the most novice computer user will have no problem entering information into the database and this is done via the point and click interface or through the keyboard. After I familiarised myself with the program, I thenI proceeded to record all our impulsegamer contacts into the program that took me a little over 30 minutes. Although this was a time consuming process, not from any software fault but because we have way too many contacts at impulsegamer.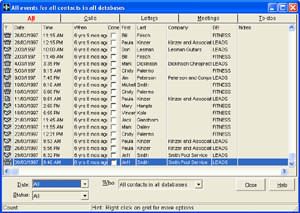 Once all the contacts were installed in the database, the user has a variety of choices from the above icons that include F1 (Help), F2 (Calendar), F3 (Dial a number), F4 (Events manager), F5 (Schedule an event), F6 (run a word processor), F7 (Notebook), F8 (Search), F9 (Browse database), F10 (Index), F11 (Filter) and F12 allows the user to access even more options such as printing and automated graphs.
Who I Know also includes some important database features such as a backup function, restore database function, import function and a very in-depth database utility program. Who I Know isn't just aimed the business user but also the everyday person who wishes to keep information about his friends, family and work colleagues.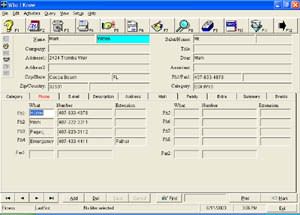 The program also allows you to record notes, send e-mails or letters, set up schedules and also a brilliant tracking option that allows you to keep track of birthdays and meetings. I had to call one of our company contacts at 4pm and I simply told Who I Know to notify me at 4pm through its alarm feature.
This review has only just touched the surface of what this powerful database contact manager can do and it also allows users to access the internet to update their clients information or even access street maps. Those that use other database programs will also be happy to know that Who I Know can import a variety of file formats that include ASCII, text, DBase, XBase and even Paradox files. With a brilliant interface that is easy-to-use and with an extremely powerful search function, Who I Know is the perfect database program to keep all your contacts in one simple to use program. Highly Recommended!
Andrew B

The Final Say!
Who I Know
Review Date: 25 October 2003

Distributor: Manaccom
Copyright ©2003 www.impulsegamer.com