PC Reviews: ShopFactory Go!
"Developing an e-commerce site is as easy as 1-2-3!"

ShopFactory Go! from 3-3 lets web masters (both novice and professional) create their own e-commerce web sites on the internet. The software boasts over 50 different shop templates and also allows users to accept credit card payments via the internet.

ShopFactory Go! also supports the best security formats that include SSL, PGP and even SET to ensure that customer details and yourself are not violated from internet criminal elements. With a click and point interface, ShopFactory Go! allows you to create a professionally designed e-commerce sites in minutes!
ShopFactory Go! features
- 50 professionally designed templates
- Point & Click interface
- Wizards that automatically calculate shopping costs and taxes
- Real-time and on-line currency conversion
- Accept credit cards over the internet
- Multimedia ready
- Create shops in over 20 different languages
- Shop Search Engine
- Index your shop for all major search engines
ShopFactory Go! uses a web-based installation system that although is a great idea, it may confuse some novice web designers because there is a trick to installing this awesome piece of software... but then again, this program is designed for true web master that wish dominate the internet with a professional looking e-commerce web site. The installation of ShopFactory Go! took around two minutes to install on our test machine and once the installation was finished, we were ready to test this amazing piece of software.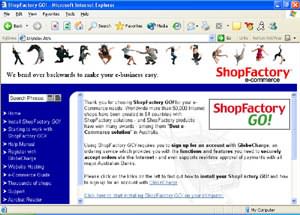 Before you can begin creating your e-commerce web sites, you must first register the software that allows you 3 months of free access. The initial fee is $24.95 a month that is a small price to pay for a professional looking e-commerce web site with not only credit card facility but also a shopping basket function. The program itself is called "MyShop" and is the interface that the program uses to create professionally designed web sites.
To create an e-commerce web site, you simple just click on the new icon and it will automatically load a wizard that takes the first time user through a step-by-step procedure. The wizard gives the user a variety of different templates to choose from (you can also use your own designs), various colour designs and even prompts you what kind of items you will sell on your web site.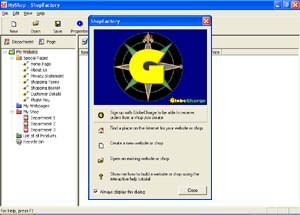 ShopFactory Go! also contains over 50 different professional looking templates that ensures that there is something for every business and their dog. Once I selected template for the new impulsegamer.com.au shop, I simply just had to click on what products the web site would be selling such as XBox games, PS2 games and various other items such as hardware and guide books.
Although ShopFactory Go! contains a monthly user fee of $24.95, this fee is basically used to secure your web site so that you can accept credit cards over the internet. The program also supports a wide variety of security systems that include SLL, PGP and even SET support to ensure that users will not have their details stolen and to prevent nefarious users from using stolen credit card details.
Just about every aspect of web page creation is included this comprehensive software package such as the home page, about us, privacy statement, shopping terms, shopping basket, customer details and of course a thankyou message when you purchase the item.
Apart from web page creation and e-commerce, ShopFactory Go! also allows your new e-shop to be included in all the major search engines on the internet and also another great little feature of this program is that you can also specify a variety of languages for your shop such as French, Hungarian, English and even Swedish.
Web designers who use programs such as FrontPage and Fusion will be happy to know that ShopFactory Go! is backwards compatible, so no matter what designing program you are using, you can easily implement your files into this program.
ShopFactory Go! is an amazing piece of software that I would recommend to all users who wish to get into the world of e-commerce as not only does it cater for the novice but also to the professional web page designers. With over 50 temples, real-time online conversion between currencies and even GST support, ShopFactory Go! is a must have piece of software!
Andrew B

The Final Say!
ShopFactory Go!
Review Date: 6 November 2003

Distributor: Manaccom
Copyright ©2003 www.impulsegamer.com