PC Reviews: Norton SystemWorks 2003
"Norton SystemWorks 2003 is the perfect solution to prevent and repair computer problems!"

Norton Utilities has been around for years and I still remember using Norton Utilities to repair my old MS-DOS 6.2 operating system and it featured a bevy of useful functions such as Norton Undelete and Norton Disk Doctor that were one of the most useful programs around. Unfortunately for a time, Norton's popularity decreased with the onset of Windows 95 as Microsoft had managed to snare Norton's most useful tools and make them part of the operating system. Fortunately for us, Norton (now under the name of Symantec) have returned and offers the PC user a variety of different programs and utilities to get the best from their Windows based operating system.
Norton SystemWorks 2003 Review
Norton SystemWorks 2003 contains a variety of different useful programs that are all designed to streamline and make your computer run more efficiently. The first thing you will notice with SystemWorks is the massive manual that comes with the program that is almost over 300 pages and is actually more useful than most online help programs. While installing SystemWorks (which does take some time), I flipped through the comprehensive manual that thoroughly explains what each program does and how to benefit and improve your computer system. I must reiterate that I am thoroughly impressed by the manual and it's very rare that you actually get a printed manual with any computer software anymore. The beauty of a printed manual is that it gives the user a more in-depth explanation of SystemWorks and dissects every function and options of the programs that are included in this package.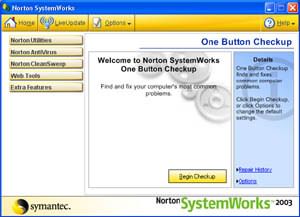 Once the installation was complete, it does take a few minutes to install, a reboot of the computer system was needed and it booted back into Windows XP with no problems whatsoever. When first running Norton SystemWorks, you are greeted with a menu that offers the following features;
Norton Utilities
Optimize Performance (Optimizers your PC's disk to improve performance)
Find and Fix Problems (Norton System Doctor, UnErase Wizard, Norton Disk Doctor & Norton WinDoctor helps repair and prevent problems)
Norton AntiVirus
Status (Norton AntiVirus system options)
Scan for Viruses (Scan your computer system)
Reports (Quarantine items, Online Virus Encyclopaedia, Activity Log & Virus List)
Norton CleanSweep
Clean Up (Uninstall Wizard and Fast & Safe Cleanup)
Internet (Internet Uninstall, Internet Cache Cleanup, Cookie Cleanup, Plug-in Cleanup & ActiveX cleanup options)
Web Tools
Web Cleanup (Eliminate unwanted files)
Connection Keep Alive (Keep your dial-up Internet connection from disconnecting unexpectedly)
Extra Features
Symantec Web (Symantec Security Check & Live computer help)
Install GoBack (Lets you roll back your system in case a problem has occurred)
Norton SystemWorks 2003 also offersan improved design over its predecessor that is extremely easy to navigate forboth the novice and professional user. For the novice user, SystemWorks offersthe user a one-click button to repair their system, whereas the professionaluser can change and edit the advanced features of the program to streamlinetheir system. Sometimes these features are best left to the professionals.
Although Norton SystemWorks 2003 contains a bevy of useful programs and tools, one of the most needed features of the Windows XP operating system is a real registry cleaner. Norton WinDoctor performs this function perfectly and checks for problems with Windows system files, applications that won't launch and registry errors. Once WinDoctor has performed its diagnosis, it will prompt the user with a log of all the problems it has found on your system, I originally had over 72 different problems (I've been running Windows XP for over a year and a half now) and SystemWorks successfully repaired all these problems. Many of these problems were files that were missing from the computer and redundant registry entries.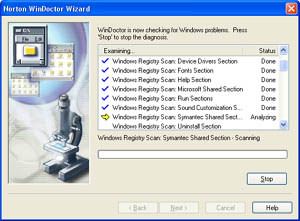 SystemWorks also contains an UnErase Wizard for those uninitiated that need to recover files that they have accidentally deleted, although the more professional user will probably not require this feature, it's still a great feature to have for those learning the ins and outs of Windows XP. It's also good to see that Norton Disk Doctor has survived this competitive world of computer programs and I still believe that it is the best program to repair your hard drive, that is lost clusters and cross-linked files that generally always occur if your computer crashes or was shutdown incorrectly. Although these problems generally don't occur with the Windows XP operating system, it's always good to know that you have a program that can repair these problems immediately.
Another impressive feature of SystemWorks is Norton System Doctor that is a memory resident program that monitors your computer system such as performance, memory and internet usage. As with most programs from Symantec, Norton AntiVirus 2003 is included in the bundle and offers the user the best protection available. Norton AntiVirus performs a variety of functions such as monitoring incoming and outgoing e-mails, scanning your hard drive from viruses and preventing new viruses from attacking your system. In order to stay up to date with all the new viruses that are constantly getting released worldwide, Norton AntiVirus offers a LiveUpdate feature that connects to the Symantec web site and allows you to download the latest patches and drivers for this software package that almost guarantees you 99% protection against viruses. Itshould be also be noted that Norton AntiVirus even protects programs like MSNand AOL instant messenger against file sends from other users on the internetthat may contain viruses.
Norton CleanSweep is another useful program of SystemWorks and if installed, allows the user to successfully remove any programs totally from their hard drive. As with most programs that install in Windows XP, they are never totally removed when they are uninstalled from your system, CleanSweep on the other hand guarantees that all programs, directories and registry entries are removed completely. CleanSweep also offers various internet utilities that help clean up your cache, cookies and plug-ins that you may have downloaded from the internet.
When it comes to support, Symantec offers one of the best support teams available to the end-user. Apart from the telephone support number, Symantec also offers users of SystemWorks the ability to get live help on any computer problem they have and also offers the user to test their computer system with Symantec Security Check that tests your computer for online security attacks and viruses. Another bonus feature of this package that is not fully integrated into Norton SystemWorks, is Roxio's GoBack 3 that allows users to roll back their systems in case you have suffered from a virus attack or various other computer problems. Unlike Windows XP that lets you set a roll back date of days, GoBack 3 offers the user a variety of roll back points that range from minutes to hours.
System Requirements

Windows XP Home
Edition / Professional

- Intel Pentium
(or compatible)
- 233MHz or higher
processor
- 128MB RAM

Windows 2000
Professional

- Intel Pentium
(or compatible)
- 133MHz or higher
processor
- 64MB RAM

Windows ME/
98

- Intel Pentium
(or compatible)
- 133MHz or higher
processor
- 32MB RAM

REQUIRED FOR ALL
INSTALLATIONS

- 150MB of available hard
drive space
- DVD or CD-ROM drive
- Internet Explorer (min
version 5.01 required, 5.5
recommend)
In conclusion, Norton SystemWorks 2003 is the perfect addition to your Windows based operating system and offers the end-user a variety of helpful utilities to improve their computer experience. I would highly recommend this program to anyone who uses a Windows based operating system (XP/2000/ME/98) as it is extremely easy to use and is the perfect solution to prevent or repair any future computer problems. Highly Recommended!
- Andrew B
The Final Say!
Installation
9/10
Interface
9/10
Value
9/10
Norton SystemWorks 2003
reviewed by Andrew B
Review Date: 15 January 2003
Review Score: 9/10
Distributor: Symantec
Copyright ©2003 www.impulsegamer.com