N-Gage Reviews: Tony Hawk's Pro Skater
Out of all the games that I knew were coming out on N-Gage, this was the one that I was looking forward to the most. Anyone who knows me is aware that I am the ultimate Tony Hawk nut and that I play these titles until they break.

I was apprehensive as to what I would get when I played this game, however I am stoked to report the game rules and quite frankly asserts itself as one of the
must own games on the N-Gage. Having finished this game on the Playstation, it was almost a nostalgic moment playing this game as it's one of the most faithful recreations of a game on a portable device that I have seen to date. The title has the same intuitive control system that makes skating on your phone incredibly easy. With a great career mode mixed with a multitude of multiplayer goodness, it's easy to just spend time running down the N-Gage's battery playing this awesome game over and over. Even moreso if you have another phone in the same area with this game in it!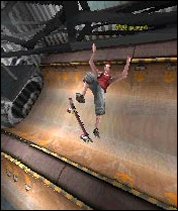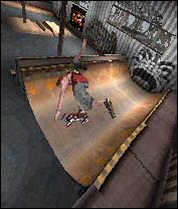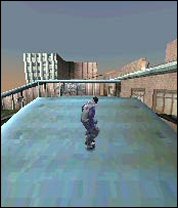 I wasn't too sure what to expect out of this title with it's transfer to the portable platform, however it is just as nice to look at as the PSX version on your telly. Skaters are clear enough that you can see who they are and well animated enough to know when to allow them to land.
I found it a little frustrating at time being a Tony Hawk Pro Skater player right up until it's latest incarnation and then coming back to this one and not being able to do manual tricks. I do think that it could have been added with no problems at all and would have added a whole new dimension to the gameplay. To do a manual in the other versions, or you have to do is push up and down on the D-Pad. That would mean that you could link tricks from one area to the other, making for some insane combinations.
Controls are pretty intuitive and button placement makes moving your board a pretty natural kind of experience, especially if you are used to playing these games on the PS2. The game has a learning curve of about 10 minutes to get you into the swing of things when starting out. There were some issues with not being able to hit buttons fast enough but for the most part it was all good. Every player will be able to do tricks immediately, but with practise you will see how you can link tricks by grinding your way around the level to rack up some nice scores.
Level design is of course wonderful with lots of detail packed into each and every item. There is a fair deal of pop up, however it doesn't occur so suddenly that you lose your bearings at all. There was always enough time to plot a course or line. Each level has a number of objectives that have to be achieved, whether it be getting the required score or finding a hidden tape. Once you have achieved a certain amount of goals, the game will treat you to some real video of skating in action. It's a credit to the power of the N-Gage to display video the way it does.
Of course as with any extreme sports title, you need to have pumping music to get the adrenaline flowing, and this game, despite the fact that it's running off a memory card is no exception. Full length songs are the go on this little gaming wonder and sound brilliant despite the limitations of the source material. You are looking at tunes from Dead Kennedys and the Vandals but to name some of the goodness. Surprisingly, it all sounds really good as do the environmental sounds and the racket that bailing skaters make when they fall or bump into objects.
Multiplayer is a blast with simultaneous play through bluetooth the way to go with a number of game modes to choose from, including; Tag, Graffiti, Trick Attack, Horse Play, and Skate Race. With the exception of Skate Race, it is a matter of who has the most skills to win the other competitions as you go head to head against your mates.
To wrap it up, I'd say that Tony Hawk Pro Skater is the most must have game on the deck as yet. With addictive gameplay, great music, graphics and single player mode to die for, Tony Hawk's Pro Skater is gonna be the one to rock your phone and really impress the mates!
- Tory Favro

The Final Say!

Gameplay
8.8
Graphics
8.9
Sound
8.9
Value
8.8

Tony Hawk's Pro Skater -


reviewed by Tory Favro
Review Date: January 2003
Review Score 8.8/10
Distributed By: Nokia
8.8
Copyright ©2004 www.impulsegamer.com