N-Gage Reviews: N-Gage Review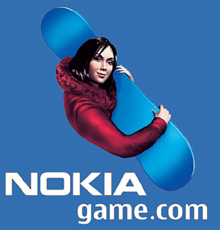 Just about everyone owns a mobile phone these days and sooner or later you will have to wait somewhere, wishing that you had something to do. Fortunately for us, Nokia have come to the rescue with the N-Gage that joins the world of mobile phone technology with the gaming world. Mobile Phone, games machine, MP3 player, FM Radio and PDA is just a small sample of what the N-Gage can do.
The N-Gage has finally been released around the world to mixed reviews but fortunately for Nokia, most of the reviews have been extremely positive. When I first heard about the N-Gage, I was a little dubious and believed that this was just another mobile phone gimmick to cash in on potential technophiles with addictive personalities and I couldn't have been more incorrect. Nokia don't call their current device a "mobile phone", "games console" or anything else but instead call the unit itself a Game Deck. The unit itself is quite small and measures at an extremely tiny 133.7 x 69.7 x 20.2mm which is considerably smaller than the GameBoy Advance SP and only weighs at a fraction of its weight. When I first held the N-Gage in my hands, I was quite surprised at out how lightweight and small the device was. The resolution of the N-Gage is 176 x 208 pixels with a true 12-bit colour display that allows the unit to display a plethora of colours.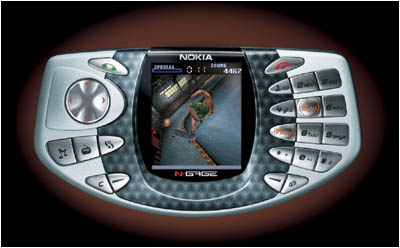 Features
High-performance mobile 3D gaming
Gaming-optimized design and functionality
Bluetooth wireless technology
Digital music player and recorder
Stereo FM radio
Multimedia messaging
Full email support (IMAP4, POP3, SMTP, MIME2)
Content with XHTML browser
Tri-band EGSM 900/GSM1800/GSM 1900 phone
Series 60 UI enabling application multitasking
MP3, AAC, MIDI, and WAV ringing tones
WAP over GPRS
What is the N-Gage?
When most people see the N-Gage, they are usually confronted by two questions, is it a phone or is it a games console? The easiest answer to this question is that it is both and more. That is, the N-Gage is a fully functional phone and games console that takes mobile phones to the next stage. When you first turn the N-Gage on, it does take a few seconds to boot up, you are greeted with a very user friendly interface that contains your mobile phone service provider, time and date at the top of the screen, your background picture below it and contacts and messages at the bottom of the screen. The battery metre is located at the top right hand side of the screen that is displayed by bars with your mobile phone metre directly adjacent from it. The keys on the N-Gage are divided into two areas, the left area containing the game pad (to navigate through menus or to play games), the call key on the top right of the unit, with the music player, radio key and menu key on the bottom left and the keypad on the right of the unit with the end call key at the top right. The unit itself is quite comfortable in your hands and another bonus feature of the device is that the buttons are extremely easy to press that is a huge benefit to gamers.
One of the most frustrating things about the N-Gage (although it shouldn't be frustrating because it's a mobile phone) is that the unit will not operate without a SIM card. A SIM card is small computer chip that is used by mobile phones around the world that not only stores your personal phone number but also various mobile phone settings such as phone books, contacts and SMS messages. Therefore the phone cannot be just used as a games console and in order to activate the unit itself, a SIM card must be installed into the phone. I personally love the N-Gage and think it is a very clever idea that combines a mobile phone, games console, MP3 player, radio and a PDA into one handy little unit.
Specifications
CPU 104MHz ARM Processor
Operating Frequency: Tri-Band GSM 900/1800/1900
Weight 4.83 ounces (with standard battery)
4096 Colours (12-bit)
Talk time 2 - 4 hours
Standby 150 - 200 hours
Music - Up to 8 hours
Games Up to 6 hours
Mobile Phone
Considering I already own a mobile phone, an Ericsson R600 which is an extremely tiny phone, I was a little anxious to transfer to the N-Gage considering that I drop my current mobile phone quite a bit and the Game Deck retails for around $599 in Australia. Therefore I was not planning on substituting it for my regular phone, for me, the N-Gage is a lean mean console machine so I purchased a pre-paid SIM card for the N-Gage that cost around $30. As a phone, the N-Gage supports just about all the features of a high end phone beside an in-built camera but I'm sure Nokia will consider this an option for the N-Gage 2 if they ever release one. Using the N-Gage as a phone for the first time is a little strange because you must hold the device to your ear like a plate. In order for you to get a better picture of this, hold your right hand like a duck's mouth and hold it towards your ear. (Editors note: it does take some time getting use to)
The audio quality of the phone is exceptional and you will have no problems whatsoever talking to someone on the phone, not only will they hear you loud and clear but you will able to hear them perfectly. The hands free function of the N-Gage is brilliant and when I put the phone on the coffee table, I could sit back on the couch and chat to the person without having any mobile phone device near me. The N-Gage also comes with a headset for hands free that is of exceptional quality. Those that love professional sounding ring tones will be happy to know that you can even use MP3 files as your ring tones, so gone are the days of one string beeps.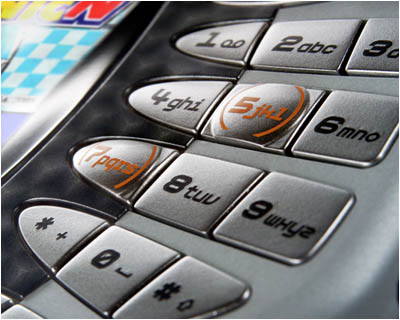 Contents
Transceiver
ACP-12 Charger
HDD-2 Stereo Headset
DKE-2 USB Cable
ADE-2 Recording Cable
ADA-2 Adapter Cable
BL-5C Li-Ion Battery
Booklet (including User's Guide and Warranty card)

CD-ROM
The Power of Gaming
As a games machine, I must admit that it did take some time for the unit to grow on me but once I tested a variety of games, I automatically knew that Nokia were on a winner with the N-Gage. Although the screen is a little on the small side, the LCD is backlit so even if you are playing the N-Gage in the dark, you can comfortable play the unit. As with the GameBoy Advance SP and the N-Gage, strong sunlight will effect the visibility of the screen. The gaming engine of the N-Gage is extremely powerful and puts the GameBoy Advance SP to shame with innate 3D support, wireless connectivity, 3.4MB internal memory, Symbian OS with Java Micro Edition (J2ME) support and a powerful CPU (104Mhz) that allows for a great gaming experience. As the N-Gage supports native 3D support, it can handle a variety of different gaming styles from Tomb Raider to Tony Hawk and even first person shooters such as Red Faction that include 3D polygons with pre-rendered textures. If you could compare the N-Gage to a current console, one would definitely say that it is very similar to the PSOne (PlayStation One) and this little device is almost as powerful as the original gaming console. And as the N-Gage supports java applications, this means that a variety of java-based games are now available for the unit that can be downloaded for free from the net.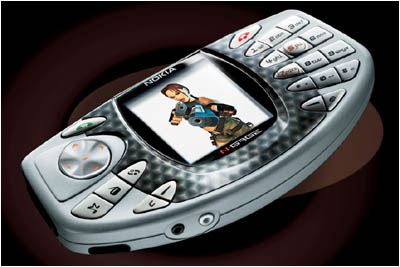 MP3
The MP3 player of the N-Gage is brilliant and by pressing the "music player" button on the left hand side of the unit brought up the music player menu. The player allows you to play an MP3, stop it, skip to the previous track or skip to the next track and even record your own sounds by connecting an audio cable to the N-Gage. The Music player also allows you to set the sound style of the player that included a variety different genres such as rock, jazz, classical and normal. If you have ten tracks on your MMC card, the player also allows you to play the tracks in order (normal), random or repeat a particular track. As an MP3 player, the N-Gage is a great little unit and I would highly recommend that you connect external speakers to the device because the internal speakers are a little rough at the best of times. The only down side to the MP3 player is that you must manually activate the loudspeaker of the phone each time you run the music player but apart from that, you can virtually listen to music anywhere you go. The music player of the N-Gage allows you to play two music formats, that of the extremely popular MP3 format and AAC. The AAC format is a much more compressed version of MP3 that takes up less space on your MMC. Transferring music to your Game Deck can be done two ways, either by connecting the N-Gage to your computer via the USB cable (included with the phone) or by taking out the MMC card from the device and connecting it to your PC via a MMC reader. I purchased a 128MB FujiFilm MMC card that allowed me to store a plethora of music files on the card that I now use as an MP3 player for my car.
Features: Digital Music Player
Digital music player for AAC and MP3 files
Stereo line-in for audio recording (analog)
Music file download from compatible PC over USB cable
High-fidelity stereo headset for music player, radio and voice calls (mono)
Integrated recorder (AAC) from analog stereo line connector and radio
Handsfree speaker
Shortcut button to start music player
FM Radio
The N-Gage also contains a fully functional FM radio that contains a variety of functions such as automatic next/previous channel seek and even a 20 radio channel memory that allows you to easily go to your favourite radio stations. The only down side to the radio of the Game Deck is that you must either connect external speakers or a headphone to the device in order to activate the radio. I'm a little bemused as to why you cannot use the loudspeaker of the phone to listen to music. Car owners who don't own a CD player in their car will be happy to know that you can easily connect your N-Gage to your car radio via a tape interface that not only allows you to listen to the radio but also to MP3 music. You can even record your favourite radio stations and play them back later, provided you have enough room on your MMC.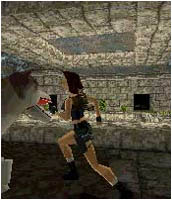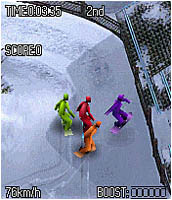 Multimedia Device
The N-Gage is also a fully functional multimedia device that allows you to store high quality images (JPEG) on your MMC card that comes with an extremely professional picture viewer that automatically resizes the pictures to fit the screen size. There is even a screenshot grabber included with the N-Gage that allows you to take screenshots of applications, games and whatever else you are doing with your N-Gage. I'm a little confused as to why this would be any use to the average gamer but for game reviewers, it's an ideal little tool. Apart from the image viewer, the N-Gage also offers a real-media player that allows you to watch movies on the unit itself with exceptional quality. The N-Gage can also convert MP3, MPEG, AVI, DIVX and a variety of other multimedia formats into AAC to help save space on your MMC card with little or no loss at quality at all.
Features: Enhanced Messaging
Email protocols (IMAP4, POP3, SMTP, MIME2)
ACP-12 Charger
Multimedia messaging (send, reply, forward, play audio, stop audio, insert multimedia content) enabling easy and more colorful messaging with compatible devices
Enhanced SMS support including: Multiple SMS sending, SMS concatenation, templates, smileys, and picture messages
Issues
The N-Gage also boasts native Bluetooth support that allows you to connect to other Game Decks for network gaming fun, transfer files between other Bluetooth devices and even connect to the internet to browse web pages or play other gamers. There are also a variety of PDA like utilities that include calendars, notebooks, ring tone composers, calculators and even currency converter that are all compatible with Microsoft software products. At a recent Microsoft event, we turned the Bluetooth device on in the N-Gage and within 30 seconds, it detected around 30 other Bluetooth devices from mobile phones to PDA's. Needless to say, we were both impressed by this feature.
As with all good technological devices, no matter if it's an XBox, PlayStation 2, IPAQ or mobile phone, there are always some teething issue with the first of its kind. The N-Gage suffers from a variety of small problems that I will discuss in this section. Although the unit itself is professionally built, looks impressive and is extremely lightweight, it does not have external MMC (Multi Media Card) slot for putting memory cards or games into the device itself. In order to put an MMC card or game into the N-Gage, you must remove the back panel of the phone (which is sometimes a little fiddly), remove the battery and then install the MMC card. This must be done every time that you want to install a new game or MMC card into the unit and my only concern is that eventually it will wear down the back panel, weakening the bonds that hold it in. I sincerely hope that Nokia will include an external MMC slot on the N-Gage 2 and perhaps even two slots, one for games and one for a spare MMC card.
Features: Wireless Connectivity
Data support HSCSD, GPRS Multislot Class 6 (2+2, 3+1, class B)
Bluetooth wireless technology
Wireless phone-to-phone or phone-to-PC connectivity
Send/receive pictures, graphics, and business cards
Play games
SyncML
Another issue that I had with the N-Gage is the battery life of the unit itself. As a mobile phone, the battery life of the unit is excellent and lasts quite awhile but if you are using it to play games, especially graphic intensive games such as Tony Hawk or Splinter Cell or play MP3's, the battery will run out quite fast. Another issue with the N-Gage is that the display screen is quite small (approximately 35mm by 40mm), whereas the GameBoy Advance SP has a display screen of 60mm by 40mm. Although this was not an issue for me, people with poor or failing eyesight may have issues with the tiny screen size.
The Games
There are also a variety of games available for the N-Gage at the moment that include Rayman 3, NCAA Football, MLB Slam!, MotoGP, Pandemonium, Puyo Pop, Puzzle Bobble VS, SonicN, Super Monkey Ball, Virtua Tennis, Red Faction, Tony Hawk Pro Skater and Tom Clancy's Splinter Cell which ensure that every genre of gaming is currently catered for. We received Pandemonium as a test game for the unit and I must admit that it is virtually identical to the PSOne version that not only had exceptional graphics but was extremely entertaining to play. Pandemonium also supports wireless connectivity to other N-Gage devices so you can compete against other Game Deck owners.
Conclusion
The N-Gage is brilliant device that combines mobile phones, PDA's and gaming consoles into one powerful little portable device. Nokia will no doubt make an impact in the gaming world with Game Deck that has quite a few developers behind it. The N-Gage also comes with a variety of accessories that include wireless headsets, travel charger, mobile charger and carry case to name a few of extras that are currently available for this phone. From the little things as pausing games when someone rings or listening to the radio while you play games, the N-Gage is truly a work of art and with over 15 games currently available for the unit, 2004 is going to be an even bigger year for the Game Deck.
- Andrew B
The Final Say!
N-Gage (Game Deck)
Review Date: December 2003

Distributor: Nokia
Copyright ©2003 www.impulsegamer.com