N-Gage Reviews: Ashen Genre: First Person Shooter
| | | |
| --- | --- | --- |
| | | Made in Melbourne Australia by Torus games, Ashen is a real trick out of the box as far as games on this format are concerned. In Ashen, Torus have succeeded where others have failed: in creating a first person shooter that is actually fun with a direction pad instead of a mouse or analogue stick. In this review we'll have a quick look at the story and also what makes this game tick as nicely as it does. Before we get into it, this is a nice testament to the good work done by Aussie Studios. Great Stuff. |
One of the first things that gamers might notice is that this game is a little slow at the start with minimal conflict and a whole lotta searching goin' on. At first I found this annoying due to the fact that I just wanted to get in and kick butt, however it made sense in retrospect as it gave me time to work out the mechanics of the game and how to most effectively move about. This is important as there is a lot to learn to make this baby run, with most keys on your N-Gage being used.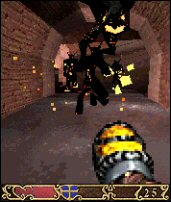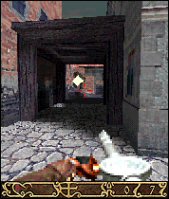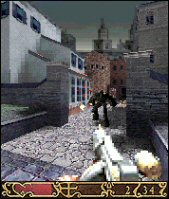 We get into the action soon enough however and it is then that the game really puts on it's racing stripes with a nice feature that will put you on your toes: Some of the monsters can become invisible and you must don some special goggles that were your sisters for all too brief glimpses of the horrors that await you. By the way, your sister is missing as well, that being the reason that you are prepared to deal with this mess in the first place.
Your name is Jacob Ward and after your city, named Seven River City is destroyed and ravaged by something unholy and it's citizens long fled, you must return and face the darkness against your own will, having been prior warned that this would happen. Sounds compelling eh?
I don't know if any of you have ever gone back and played the original doom or Wolfenstein after dealing with the newer version and been disappointed by what was once cutting edge graphics that are now just jaggy pixels jumping about but you are going to have that feeling again with this game. It's more of a limitation of the software than the actual game, however you don't feel particularly threatened by a bunch of little squares. It's when they are invisible that the real menace is truly felt.
One thing that really did impress me was how well Torus had incorporated sound into the title, which listened to with headphones was truly wonderful with it's almost ambient atmosphere. This quality is integral to the title and amped up the level of suspense that one felt when playing. There are so many little details that are coming together to deliver one great game that it is a credit to the team.
In terms of quality, Ashen delivers time and again with a solid single player game and a really fun deathmatch for up to four players. Ironically the most people I know with an N-Gage is 3 so we're never going to have a four player deathmatch, but even with just two going for it, it was a lot of fun. There are a good amount of weapons, well nine actually, that are quite varied in appearance and damage inflicting ability. Add to that some monsters that actually have a bit of AI in them and you get a great title that is really worth your gaming dollar.
Ashen is one of those titles that is the sort of game that I can say should be in every N-Gage owners collection.
Highly recommended!
Tory Favro

The Final Say!

Gameplay
8.3
Graphics
7.8
Sound
8.1
Value
8.2

Ashen -


reviewed by Tory Favro
Review Date: September 2004
Review Score 8.1/10
Not based on an average
Distributed By: Nokia
8.1
Copyright ©2004 www.impulsegamer.com