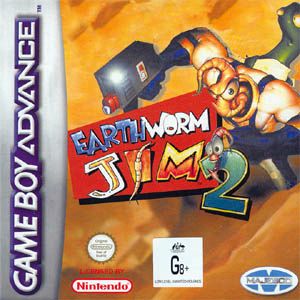 Earth Worm Jim 2 Screenshots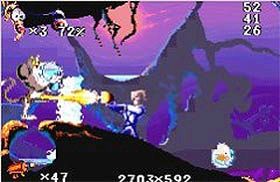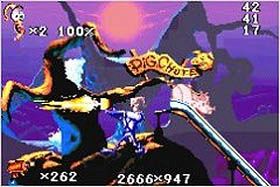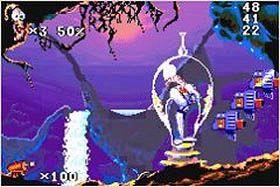 The Final Say!
Gameplay
7.0
Graphics
7.5
Sound
7.0
Value
7.0
Earthworm Jim 2
- reviewed by Andrew B
Review Date: 15 September 2003
Review Score: 7.0/10
Distributed By: Vivendi Universal
Earthworm Jim 2 is the latest arcade classic to arrive on the GameBoy Advance which proves that games like these were meant to be played on this format. You play the role of Jim, an earthworm who through sheer luck has become a universal hero. When Jim was "worming" his way on Earth one day, a powerful space suit fell on him and Jim was transformed into a worm with super powers. Fortunately for Jim, he is not alone and is accompanied by his fearless sidekick called Peter the Puppy and Snott, a slug-like creature that allows Jim to parachute and whip creatures and objectives.
Together, they make the powerful team of Earthworm Jim but as all good heroes no, evil-doers hide behind every corner or under every rock and not only attempt to thwart justice but also that of Jim himself. Jim must once again don his space suit as the evil genius known as Psy-Cow has kidnapped his beloved princess and now Jim must venture into the unknown to bring his soul mate back.
The basic premise of Earthworm Jim is a classic style side scrolling arcade game that has your main character, Jim, performing a variety of manoeuvres such as fighting enemies with his plasma gun or by using Snott as a deadly whip. Levels also involve jumping obstacles, collecting powerups, defeating bosses, saving the universe, jumping, ducking and of course, saving his beloved princess. The gaming environment is also littered with weapons that include Jim's mega plasma gun, the barn blaster and the bubble gun to name a few of the arsenals that are available to your character.
The control system of Earthworm Jim is perfect and uses the game-pad to control Jim, with A being used as your "fire" button (depending on what weapon Jim has) and B to make Jim jump high into the sky. Combining the buttons, for example, pushing B then A will allow Jim to jump in the air and use Snott as a parachute. The right shoulder button is used as Jim's whip and the left shoulder button creates a manta field around Jim to protect himself from the dangers of the world.
One of the most annoying aspects of the game is that you cannot save your progress.