Club Penguin: Elite Penguin Force
Disney have released an interesting point & click adventure game for kids, entitled Club Penguin: Elite Penguin Force which has been successfully transferred to the Nintendo DS from the highly popular social networking/gaming site. By donning your spy clothes, young gamers are transformed into a covert agent in the Elite Penguin Force where you need solve a variety of missions with some really cool "spy" technology and best of all, through the unique controls of the DS.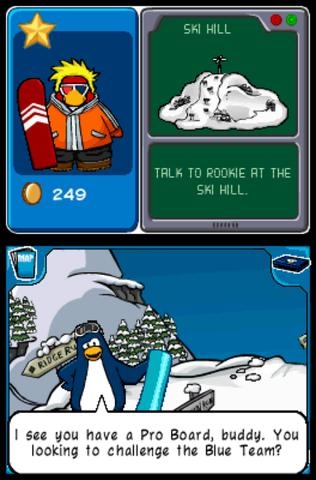 At it's core, Elite Penguin Force is an adventure game mystery that revolves around an island where players must solve a variety of puzzles for the characters of this island and engage in a variety of different mini-games from puzzles to arcade style of games. The adventure game aspect is from the point and click genre as you attempt to solve the puzzles and mysteries. Whether it's helping people find items or defeating puffles, Elite Penguin Force is extremely diverse. The difficulty level of the title is rather basic, however at times some younger gamers may encounter a few problems of progressing.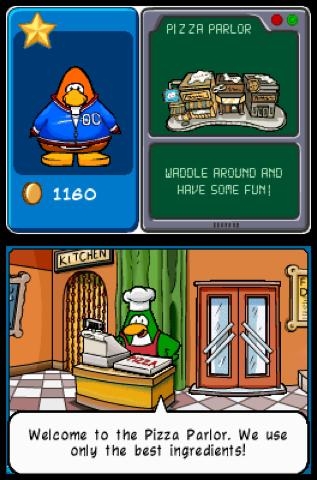 The player also encounters a variety of characters in the game where you need to them them out in the 13 or so missions that are included in the game. Thankfully the story is entertaining and Disney have incorporated some interesting and amusing humour into the tale, ensuring gamers will be drawn in.

Although the main adventure game is decent, where the title does shine is through the mini-games such as Snowboarding which is actually quite fun and my nephew really enjoyed this mini-game. Very cool! There's also a fishing game which uses the touch screen of the DS as players attempt to "fish" and a plethora of others to help break up the title. If you finish the mini-game, players are awarded coins which can be used to purchase additional costumes for your penguin and this can even be used online.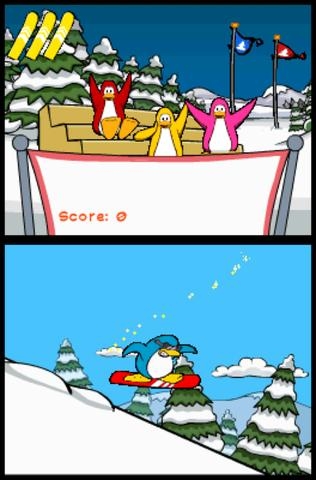 In terms of online play, Disney have a secure online community which can be accessed via the PC or the Nintendo DS and is great for kids to chat with other fans of Club Penguin. As mentioned, the coins made on the DS game can even be used online which really creates a sense of community.
Graphically, the title is a little Spartan, however it's quite colourful and contains a great boppy soundtrack with the odd sound effects thrown in for good measure. Younger kids will enjoy the simple cartoon-esq graphics which this title is aimed at.

In conclusion, Club Penguin: Elite Penguin Force won't win any awards for the outstanding adventure game genre, however it's refreshing to see a developer make a decent game for the younger gamer without the need for violence. There's something uniquely interesting about Club Penguin: Elite Penguin Force.