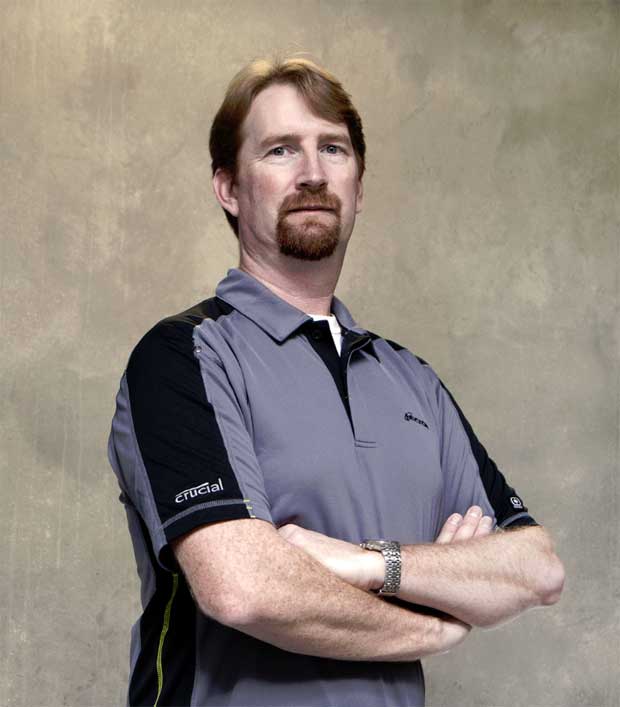 A CONVERSATION WITH
JEREMY MORTENSON
(PRODUCT MANAGER OF DRAM AT CRUCIAL)
Welcome to Impulse Gamer!
Tell us about you become involved in Ballistix?
I was fortunate enough to become Product Manager of DRAM at Crucial several years ago, which included the Ballistix high-performance DRAM product line. The Ballistix product line is my personal favourite, as Iíve been a gamer and technology enthusiast since I was young and so itís been a hobby of mine for years.
What kind of gamer are you?
I got my start in PC gaming many years ago Ė I wonít tell you how old I was, but letís just say PC monitors only had 16 colours or less back then. I still enjoy the nostalgia of retro games (including emulators), but I now like many of the newer independent titles, FPS, and RTS games too. I also particularly enjoy co-op mode games that I can play online with friends and family.
Tell us what you are most excited about with your new range of products?
We have two new additions to our high-performance line of DRAM Ė Ballistix Sport XT and Ballistix Sport SODIMMs. Both provide higher speeds and lower latencies than standard modules, and theyíre also armed with several additional features. Ballistix Sport XT, for example, has really aggressive styling that complements popular gaming motherboards. Itís also faster than our standard Sport modules with speeds up to 1866 MHz.
In terms of the new Ballistix Sport SODIMMs, Iím looking forward to utilising them in the new Haswell-based gaming laptops that have recently hit the market. These modules feature speeds up to 1866 MHz, which helps increase frame rates on new laptops that utilise integrated GPU. Not only are these modules faster than standard SODIMMs, they offer lower latencies, too. In terms of increased energy efficiency, Ballistix Sport SODIMMs have the ability to support 1.35V, which results in reduced power consumption Ė and longer battery life.
How did your company boost performance for gamers?
At Crucial, we have a proven track-record of offering high-performance memory offerings going back to DDR. As our memory offerings have evolved from DDR2 to DDR3, and now looking forward to DDR4 in the near future, we consistently strive to provide memory with higher speeds, lower latencies, and extra bandwidth to reduce any memory bottlenecks and provide a more responsive system. Even with early DDR high-performance memory, Crucial has had a history of helping gamers push their system performance to the limit through the ability to over-clock DRAM. When combined with fast CPUs, GPUs, and SSDs, Crucial Ballistix memory enables systems to reach their maximum performance level for a better gaming experience including faster load times, higher frame rates, and better overall responsiveness.
What do you think your products offer that other companies don't to gamers?
We offer a wide range of products for the novice gamer to the extreme over-clocker. Where some companies limit their testing or motherboard list to just a single chipset or configuration, we test a wide range of chipsets (old and new) to ensure the best compatibility for someone upgrading an older gaming rig all the way up to a brand new system build. We also offer one-of-a-kind products like the Ballistix Tactical Tracer, the only module that has multicolour activity-indicating LEDs that the user can control via a software application.
With the ability to change colours, select a preset pattern, monitor temperatures, turn LEDs on or off, and more, it is truly a specialty product. Our Ballistix Elite modules offer a temperature sensor, so when theyíre combined with our Ballistix M.O.D. utility, users can see module temperature in real time. The same M.O.D. utility allows the user to control Ballistix Tactical Tracer memory too. At Crucial, we strive to provide exceptional, unique memory offerings with the highest degree of reliability available to users.
Name a challenge that your company faces when developing products?
One challenge we face when developing Ballistix products is the ever-changing technology landscape in the PC marketplace. Whether itís new platforms and chipsets hitting the market, major technology transitions (DDR3->DDR4), or trying to obtain the fastest speeds, we strive to build and develop products that will be suitable for a wide range of users while ensuring the best performance, compatibility, and reliability. Our endeavour to stay on the forefront of technology requires many engineering resources, time, and support all throughout the product lifecycle.
In your experience, is it possible to play games on a laptop?
Absolutely! With the latest mobile platforms, powerful processors and discrete graphics, itís possible to run most PC-intensive games at higher resolutions and fantastic frame rates. Combined with our new Ballistix Sport SODIMMs, gamers can have a portable gaming system they can take just about anywhere. Actually, these systems have been out for several years now, but for a price of course. My son and I recently attended a LAN event where we brought a 17Ē gaming laptop for him to use, and it was much easier to travel with. He was able to play the latest games with no problem, and had a great time!
If gamers want to upgrade their gaming rigs, where should they start?
Great question! Sometimes the best upgrades are also the easiest to install. We all know that gaming performance comes down to CPU, GPU, memory, and storage speed. Depending on the current system configuration, it may be easiest to upgrade memory if thereís only a couple of GB of DRAM installed. With a memory upgrade, there are no drivers and depending on the case, tools may not even be required. A GPU upgrade is a big benefit if thereís an older graphics card installed, as again it is relatively easy to install and only requires a driver update to be up and running. An SSD is one of the best options for a performance upgrade, providing great game load times, system boot speed, and noticeable improvement in overall system response time too. An SSD is a great choice for those willing to convert. Crucial offers a software option that clones the current system and enables users to easily backup and restore their OS to their new SSD. With over 250,000 upgrade options available, Crucial has memory and SSD upgrades for nearly any system.
What do you think is the most important element in a PC for gamers?
If weíre talking about PC components and also taking budget into account, Iíd have to say the GPU can have the biggest impact on frame rates and the user gaming experience. With that said, itís important that the other system components can handle the load too, and thatís where having the right amount of memory and a fast SSD will boost your PC performance.
Lastly, what are you playing at the moment?
Right now, Iím taking advantage of some recent deals on Steam, catching up and finishing Borderlands 2 in co-op mode, playing FEZ and a few other titles with my younger kids. I also made a custom-built arcade cabinet that I occasionally fire up to play some old school classics.