Skullkickers #1
Skullkickers, a new series from Image, kicked off its story with monsters, guns and healthy dose of humor. Plus, it's got an awesome title. It's certainly the makings of an awesome fantasy series, and therein may be the problem; it's just way too formulaic.
The issue, written by Jim Zubkavich with art by Chris Stevens and Edwin Huang, is promising enough. It opens with an axe-wielding dwarf and human gunslinger fighting a fat werewolf and dishing out a few choice one-liners. Sure it's cool to see guns in fantasy, but it's nothing we haven't seen before. Yeah it's always awesome to see a gruff dwarf being a badass, but that's even less original. The archetypes that define Skullkickers aren't necessarily bad, there's a reason we see them so often, but that means there needs to be something in this series that makes it stand out.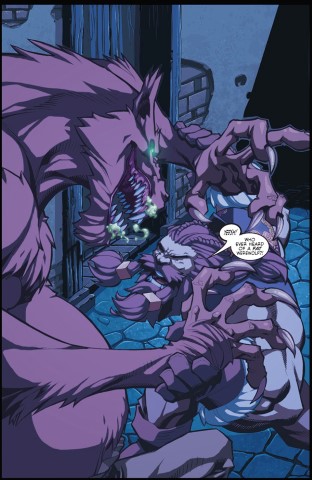 There's asskicking and intrigue and plenty that makes you want to laugh. The only problem is, it usually doesn't, and even when it manages too, the fantasy elements of the story never seem to amount to anything new or fresh.
The art is decent, nothing special, but sufficient for the story they're telling. The characters have decent chemistry and are plenty fun, but nothing especially novel or unique.
It's not a bad start I admit, there's certainly things I liked about it and moments that made me chuckle. There is unfortunately, nothing here that would sell me on future issues. The creative team is really going to need to step up in issue two if they want their work to stand out and earn that awesome title of Skullkickers.