Synopsis: "MARIJUANAMAN represents the hope of the future... the hope that we will utilize all of the power that the universe has given us to save our planet," Marley explained. Thatís the best way to describe it, honestly.
The art is bizarre. Itís got a big emphasis on exaggeration. I like that. It fits in well with the off-beat story. The art makes good use of weird gestures and facial expressions. There is a liberal use of black, blue, green, and brown. It also has splashes of hot pink and yellow. Itís quite memorable. Sound effects are also used for startling expression. It makes the whole shebang quite vivid.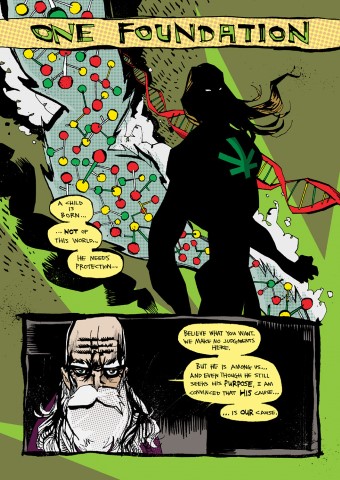 The story itself does a good job of being off the wall. Many comics today have lost the motivation to be fun for the sake of being fun. All too often comics today take themselves too seriously. There is a lot of posing, a lot of seriousness, and a lack of off-the-wall campiness. I definitely like this story. It doesnít take itself seriously. It tries hard not to be serious. Thatís kind of refreshing.
The story comes together in a clash, worthy a long read. I recommend it for those looking for good ole fashioned fun in a story. I like this kind of stuff in a comic. Whatever happened to this type of comic? What caused them to be so hard to find? Maybe it was the rise of the ultra macho comics. Maybe it was the bankruptcy of Marvel. There are many reasons, many theories, and many possibilities for why fun-loving comics are long since gone. Thank goodness now is not the time for such serious study. Now is the time to enjoy a good comic.