Synopsis: Lil Depressed Boy and his chick plan a party.
Thereís not much to say about the art here. Itís pretty dull. It doesnít grab. Itís not merely the mundane colors that lack vibe; itís also the artwork itself. Itís pretty sketchy; it lacks a kick. I guess thatís supposed to make it compliment the lackluster story. I can go on and on about how the art didnít move me. Itís time to get to the story.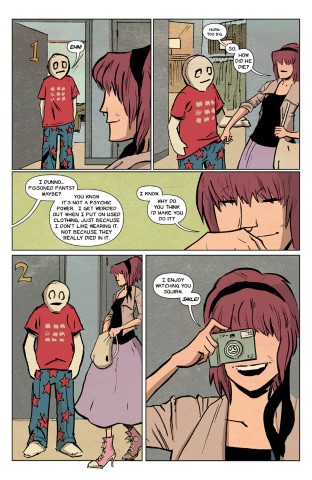 If the story was real effective at touching me, the review might be longer. However, itís just a plain, basic story. The characters donít stand out in any way. Granted, thereís a mix of hipsters, scenesters, wanna-be punks, and maybe an emo or two, but thatís hardly anything worth raising an eyebrow over. For the most part, there is minimal dialogue. The story really lacked emotional effectiveness and, I guess, for that reason the effectiveness of the dialogue is lacking too.
Lil Depressed Boy doesnít get much of a rating from me. Itís low because I donít think the author wanted to show anything special. Maybe the author was merely going for a mediocre rating. Itís hard to get into these types of alternative comics. Many of them lack force or drive. They are merely stories. I canít go anywhere with this.