Eight years in the making Hoang Nguyen's Carbon Grey has finally been released by Image Comics. While Nguyen has slogged it out on the project for eight years the end result certainly looks like it has been worth the effort.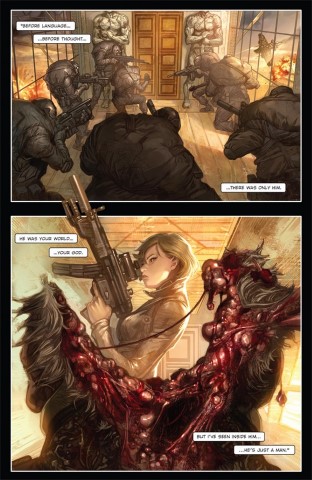 From the first issue Carbon Grey looks like it is a steam punk inspired reimagining of World War I. Nguyen holds his cards pretty close to his chest but it seems focused on a nation very similar to Germany, which is protected by three daughters of a great champion Gottfaust. There have always been three sisters, for hundreds of years, but Carbon Grey focuses on a time when a fourth sister, a twin, has also been born and the sisters are about to rebel against the Kaiser and free themselves from service.
Nguyen's first issue is a fast-paced, action packed affair that tends to use its visuals to guide you in the story. There is no notation that this Germany or the time period, but we've become accustomed to certain images and words that denote a certain country and time period and when we see that we can assume certain parts of the story. It can be a little overwhelming at first and the vagueness will not be everyone's cup of tea, but you get the basic idea that something epic is going to happen and there's just enough in the story to get you hooked. Where the story was a little overwhelming was the focus on the four different sisters. There were just so many new characters introduced all the time and then, quite often, they would die so at the moment I don't feel a connection with any of the characters yet as there wasn't enough time spent with any of them. The story did have some nice narration as we were treated to something like a prophecy and also a poem that gave the story some nice weight and helped build an epic feeling.
Visually the issue is stunning. It drives a lot of the storytelling and it is certainly up to the task. The art is all very clearly drawn and very eye-catching with a great use of color and shading. German uniforms have always been highly stylish and Carbon Grey continues this trend with all the outfits looking rather stunning. The action is plentiful and varied and gruesome and just so enjoyable to view. There's a combination of the medieval, the steam punk and the modern in the action that keeps it fresh and entertaining. From page one the issues shows you how its going to roll, a nicely detailed exploded head, and just goes from there without looking back.
Carbon Grey may have taken eight years to get into our hands but it was certainly worth the wait. An interesting setting, fantastic art and a hell of a lot of action make this a promising series I want to see more of.